Orange Sesame Lentil Bowl

Lentils, rice, and a steamed veg is a go-to supper at my house and we always try to jazz it up by taking the flavours different directions, from Cajun to Asian. Orange sesame is definitely topping the list at one of our favourite flavour combos. This recipe calls for canned lentils to save some time on those busy weeknights (this is legit, like a 10 minute meal guys.) But, if you're wanting to use dry, make enough for four servings.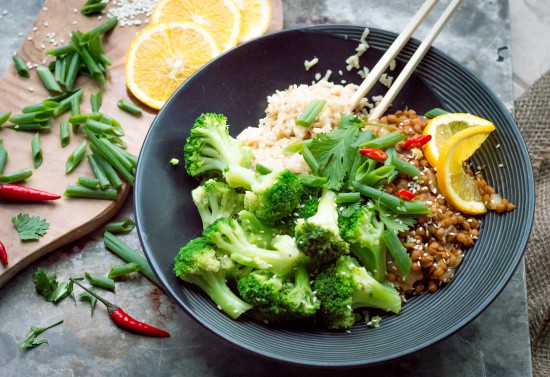 Ingredients
2 teaspoons sesame oil
1 onion, diced
2 cloves garlic, minced
540 ml can lentils, rinsed
Juice and zest of 1 orange
2 tablespoons coconut aminos
1 tablespoon coconut nectar, or any liquid sweetener
1 teaspoon sriracha
1 tablespoon rice wine vinegar
1/4 teaspoon ground ginger
1 teaspoon cornstarch
4 servings brown rice, cooked
4 cups favourite vegetable, steamed
Sesame seeds
Chopped green onion
Fresh cilantro
Directions
In a skillet, heat up sesame oil and sauté onions and garlic until fragrant. Meanwhile, whisk together orange juice and zest, coconut aminos, coconut nectar, sriracha, vinegar, ground ginger, and cornstarch. Add lentils and mixture to the skillet. Stir until thickened up, this should only take a few minutes.
To assemble the bowls, add rice, lentils, and vegetables to each bowl. Garnish with sesame seeds, green onion, cilantro, and hot peppers if desired.
Enjoy!
If you give this recipe a try, take a photo and tag
#crueltyfreefamily
and/or
#pleasepassthepeace
. We are so excited to see your recreations!