If you love Indian food, you are going to LOVE this dish. It's my plant based take on Indian Butter Chicken, also called Chicken Makhani. It's a creamy curry, with chickpeas instead of chicken. The "butter" is made with cashew and avocado, resulting in a totally luscious, extravagantly creamy dish. This dish certainly isn't low fat, but it's full of healthy fats, and my personal mantra is never say no to avocado! If you really want to impress someone, make this along with our recipe for Roasted Garlic Naan.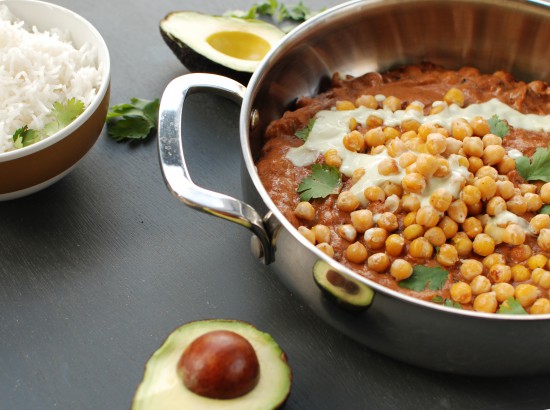 Ingredients
3 cups cooked chickpeas (about 2, 15-oz cans)
3 tablespoons olive oil
1 medium yellow onion, diced finely
3 cloves garlic, minced
2 tablespoons minced ginger
1/8 teaspoon ground cinnamon
1 teaspoon ground cumin
1 teaspoon garam masala
1/8 teaspoon cayanne pepper
1 cup vegetable broth
6 oz tomato paste
salt, to taste
To make the Avocado Cashew Butter:
1/2 cup cashews, soaked 8 hours until soft and drained
1 ripe avocado, peel and pit removed
1 cup water
generous pinch of salt
1 cup cilantro leaves, roughly chopped
cooked Basmati rice, for serving
Directions
In a large sauce pan, heat 2 tablespoons olive oil over medium heat. Add the chickpeas and let them cook for 5-7 minutes, stirring occasionally, until they are golden brown and crispy. Put the chickpeas in a bowl, and return the pan to the stove.
Add the rest of the olive oil to the pan, along with the onions. Let cook for 3-4 minutes until soft. Then add the garlic, ginger, and spices. Cook for another minute, then add the broth, tomato paste, and salt. Stir well. Let cook for 5-10 more minutes to meld the flavors, then turn the heat to low and add the chickpeas back to the sauce.
In a blender, blend the cashews, avocado, water, and salt until completely smooth. If needed, add a little more water, but you want the mixture to be the thickness of yogurt.
Stir half the cashew-avocado butter into the chickpea mixture, reserving the rest for topping when served.
Serve over rice, and drizzle with the extra cashew-avocado butter and sprinkle with cilantro leaves.
If you give this recipe a try, take a photo and tag
#crueltyfreefamily
and/or
#pleasepassthepeace
. We are so excited to see your recreations!