Mint Chocolate Mini Cheesecakes

If you're looking for a healthy and refreshing, yet decadent dessert, make these your next mission in the kitchen!
If you're unfamiliar with spirulina, it's really time to get acquainted with this amazing superfood! It's protein packed, detoxifying, speeds up your metabolism, I could really go on forever here. Sayyyyy what? Speed up metabolism while eating dessert? Yes. Detox while eating cheesecake? Hell to the yes. The best part is, aside from it's beautiful "minty" colour, you won't even know it's there!
Makes 12 mini cheesecakes*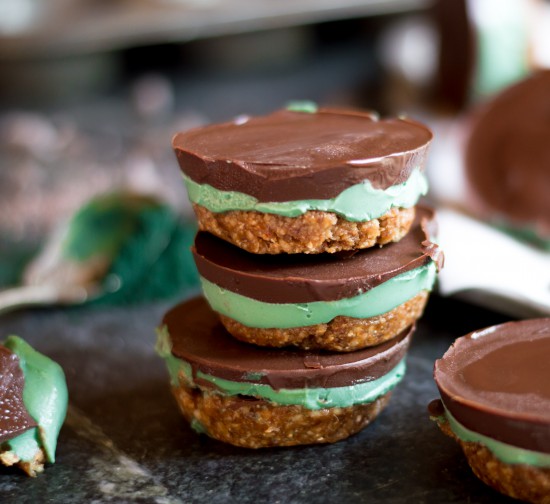 Ingredients
Crust:
1 1/2 cups pitted medjool dates (250 g bag)
1/2 cup raw unsalted almonds
1/3 cup oats
1 teaspoon vanilla extract
Cheesecake:
1 1/2 cups raw cashews, soaked overnight
1 teaspoon vanilla extract
1/4 teaspoon mint extract
2 teaspoons apple cider vinegar
1/4 cup agave, or other liquid sweetener
1 teaspoon spirulina
2-3 tablespoons almond milk (add 1 tablespoon at a time, just enough to get blender going.)
2 tablespoons coconut oil
Chocolate layer:
1 cup chocolate chips (make sure vegan friendly)
1/4 cup coconut oil
Directions
In a food processor, add dates, almonds, oats, and vanilla. Pulse until ingredients are well blended and forms a ball.
Grease or line a 12 cup muffin tin. I used coconut oil to grease.
Press a rounded tablespoon of the crust mixture into the bottom of each cavity.
Add cashews, vanilla, mint, vinegar, agave, spirulina, almond milk, and coconut oil to a blender. Blend on high until COMPLETELY smooth.
Spoon mixture over the crust layer. Place muffin tin in the freezer.
Melt chocolate with coconut oil. Take muffin tin out of the freezer and spoon melted chocolate, evenly, into each cavity.
Place back in freezer for a couple of hours. Keep in freezer until ready to serve.
Enjoy!
If you give this recipe a try, take a photo and tag
#crueltyfreefamily
and/or
#pleasepassthepeace
. We are so excited to see your recreations!