Garlic Sriracha Sweet Potato Chips

I am not a sweet potato lover, but I LOVE these. This one is my Mom's recipe and the first time I tried them, I thought they were so good because she happened to be pulling them out of the oven when we arrived at her place, starving, and pretty traumatized from traveling with three small children.
I got home and made them again. And again when I didn't get them quite like Mom's. Now we are basically making them every other day. No shame. They are THAT delicious.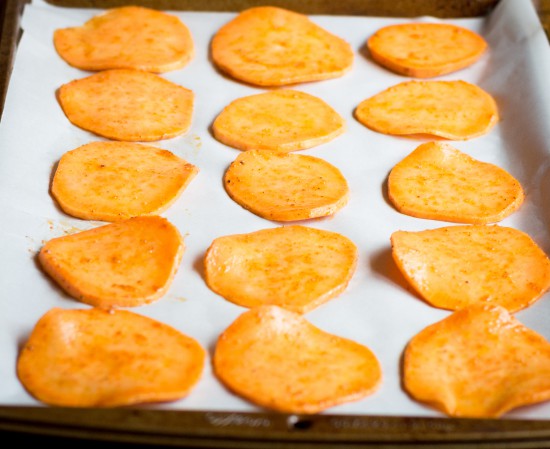 Ingredients
2 medium sweet potatoes, sliced into chips
2 tablespoons coconut oil, melted
1 1/2 teaspoons garlic powder
1/2 teaspoon sriracha
1/4 teaspoon chili powder
good pinch of salt
fresh cracked pepper
Directions
Preheat oven to 425 degrees.
Place sliced sweet potatoes in a large bowl.
In a small bowl, whisk together coconut oil and spices. Pour over sweet potato slices and toss with hands until potatoes are coated evenly.
Line baking sheets with parchment paper. Place slices on baking sheets. Make sure they aren't crowded/touching.
Place in the oven and bake for 15 minutes. Remove from oven, flip, place back in oven and bake for another 10 minutes.
Remove from oven and garnish with chopped green onion.
Enjoy!
If you give this recipe a try, take a photo and tag
#crueltyfreefamily
and/or
#pleasepassthepeace
. We are so excited to see your recreations!