This is my favourite burrito bowl. It's not just a bowl of rice, beans, and veggies. Every element is packed with flavour. This recipe features cilantro and lime rice, and seasoned, roasted peppers and onions. To make this the BEST burrito bowl though, you CANNOT forget the cheese sauce!
This recipe serves 4*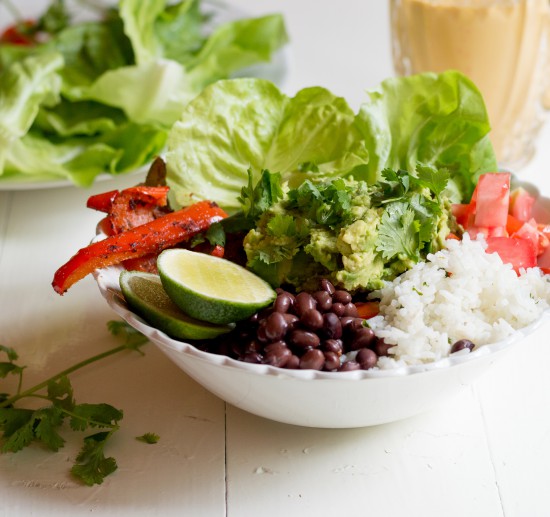 Ingredients
For the peppers and onions:
1 red pepper, sliced
1 green pepper, sliced
1/2 red onion, sliced
1 tablespoon olive oil
1 teaspoon cumin powder
1 teaspoon chili powder
1 teaspoon garlic powder
1 teaspoon onion powder
1/2 teaspoon paprika
salt and pepper to taste
For the rice:
2 cups cooked rice
juice of one lime (or 2 tablespoons lime juice)
1/4 cup chopped fresh cilantro
salt and pepper to taste
To assemble:
lettuce
diced tomato
avocado, mashed
1 can black beans
limes for squeezing
fresh cilantro for garnish
Directions
Preheat oven to 400 degrees.
In a large bowl, toss peppers and onions with olive oil and spices.
Place onions and peppers on a lined baking sheet. Bake for 25-30 minutes.
For the rice, cook brown or white as directed. When finished, stir in lime juice, cilantro, salt and pepper.
To assemble, place peppers, onions, rice, beans, tomato, and lettuce in a large-ish bowl and top with mashed avocado.
Sprinkle with cilantro. Squeeze lime juice over top. Drizzle with cheese sauce.
Enjoy!
If you give this recipe a try, take a photo and tag
#crueltyfreefamily
and/or
#pleasepassthepeace
. We are so excited to see your recreations!