Our family is curry obsessed, and this peanut-coconut combo is one of my favorites. It easily pairs with any roasted veggies, but I especially love it with roasted cauliflower, chickpeas, and green beans. To make it extra special, make it with a purple cauliflower!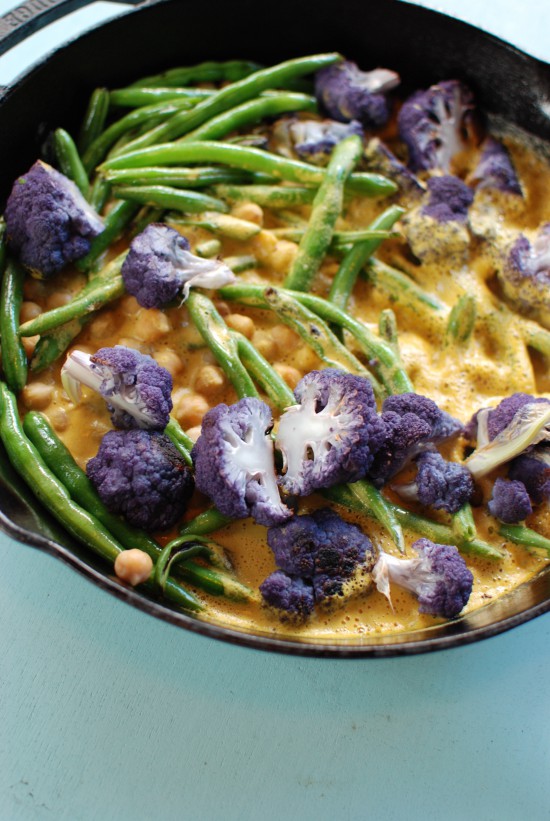 Ingredients
For the curry sauce:
1 yellow onion, finely chopped
1 clove garlic, minced
1 tablespoon fresh ginger, minced
1 teaspoon coconut oil
1 13.5 oz can light coconut milk
3 tablespoons peanut butter
3 tablespoons coconut aminos (or use low sodium soy sauce)
1 teaspoon cumin
1 teaspoon garam masala
1/8 teaspoon cayanne
Vegetables:
2 cups chickpeas
2 cups cauliflower, cut into 1 inch florets
2 cups fresh green beans, ends trimmed
2 tablespoons melted coconut oil
1/4 teaspoon salt
Additional vegetable options: bell pepper, carrots, broccoli, snap peas, etc
Rice or noodles, for serving
Directions
Preheat the oven (or toaster oven) to 425 F. Line a baking sheet with parchment paper or aluminum foil, brush the foil with a but of coconut oil. Place the vegetables and chickpeas on the sheet and brush them with the rest of the oil and sprinkle with salt. Bake for 20-30 minutes, until the cauliflower florets are soft.
To make the curry sauce, in a saucepan over medium heat, melt the teaspoon of coconut oil. Saute the onions, garlic, and ginger for 3 minutes.
Add the coconut milk and heat to a simmer. Melt in the peanut butter and stir until completely melted. Stir in the coconut aminos and spices. Reduce the heat and let cook for 10 minutes.
Add the roasted veggies to the curry sauce and serve!
If you give this recipe a try, take a photo and tag
#crueltyfreefamily
and/or
#pleasepassthepeace
. We are so excited to see your recreations!