Spicy Zucchini & Carrot Noodle Soup

The most exciting thing about the summer ending is the good fall and winter eats! Today I have a super minimalistic soup to share. The broth is delicious, but the best part of this soup (like most soups, if you ask me!) is the noodles! If you don't have a spirilizer, you MUST invest in one. Vegetable noodles are a great way to cut down on carbs/up your vegetable game!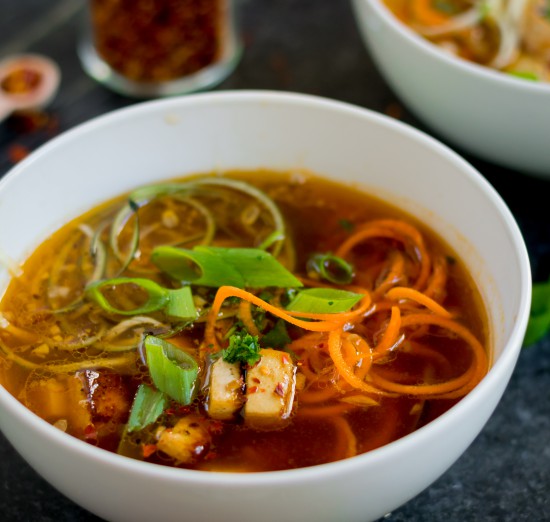 Ingredients
2 teaspoons olive or coconut oil
1/2 onion, diced
4 cloves garlic, minced
5 cups water
5 teaspoons low sodium Better Than Bouillon
1 1/2 teaspoons sirracha
1 tablespoon agave
2 medium carrots, spirilized
1 medium zucchini, spirilized
salt and pepper to taste
sautéed extra firm tofu (optional)
green onion and red pepper flakes for garnish
Directions
Sauté onion and garlic in olive oil, in a large pot on medium heat. When onions and garlic are translucent and fragrant add water, Better Than Bouillon, sirracha, agave, salt, and pepper. Bring to a simmer.
Pour broth into bowls and add spirilized vegetables. If you prefer your vegetables to be tender, add to pot and simmer before serving. I recommend leaving them raw because the texture is satisfying.
Garnish with green onions and red pepper flakes.
Enjoy!
If you give this recipe a try, take a photo and tag
#crueltyfreefamily
and/or
#pleasepassthepeace
. We are so excited to see your recreations!