Smokey Maple Breakfast Sausage

I get so tired of buying replacement "meats" that are OK, but not great. I won't name any names, but I will say we have a pretty weak selection here in New Brunswick. I hadn't come across a good breakfast sausage with that traditional herbed, smokey, sweet taste. And textures? Don't even get me started. I made a batch of these thinking I would have to tweak them. My husband and I shared one directly from the steamer. I looked over, and my husband's eyes were WIDE. No. Tweaking. Needed.
You can shape these into patties as well, great for breakfast sandwiches. This recipe makes about 35 mini sausages, freeze leftovers if desired.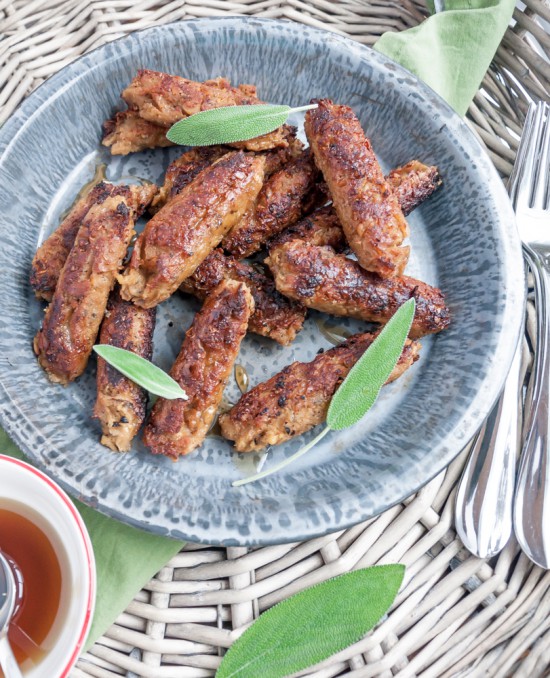 Ingredients
2 cups vital wheat gluten
1/4 cup nutritional yeast
1 tablespoon garlic powder
1 heaping teaspoon fennel seeds, ground or chopped up a bit
1 teaspoon onion powder
1 tablespoon fresh sage, chopped finely
1 teaspoon smoked paprika
pinch of red pepper flakes
1 teaspoon dried basil
pinch of salt and fresh cracked pepper
1 onion, quartered
2 cloves of garlic
1 (19 oz.) can of chickpeas
1/2 teaspoon liquid smoke
1 tablespoon grainy mustard
1 1/4 cups water
1 teaspoon of vegetable Better Than Bouillon
1/4 cup liquid aminos
1/4 cup maple syrup
3 tablespoons olive oil
About 35 6×6 inch squares of tin foil
Directions
In a large bowl whisk together your vital wheat gluten, nutritional yeast, garlic powder, fennel seeds, onion powder, sage, smoked paprika, red pepper flakes, basil, salt, and pepper.
In your food processor add your onion, garlic, and chickpeas. Pulse until everything is chopped finely.
In a medium bowl whisk together your liquid smoke, mustard, water, Better Than Bouillon, liquid aminos, maple syrup, and olive oil.
 Combine all ingredients into your large bowl, first adding your wet mixture and then rolling in your chickpea mixture. Stir until everything is combined thoroughly. Don't be afraid to get in there with your (clean) hands.
 Place about 1 1/2 tablespoons of your dough onto the middle of your tin foil square. Roll up like a tube and twist the sides like a tootsie roll. Don't twist or roll too tightly because the dough will expand and come out of the sides. Continue until your dough is gone.
 Place into your steamer and steam for 65 minutes.
 Once they have cooled, unwrap your sausages. They will be a bit fragile, especially if they are still warm.
 Before serving, brown in a frying pan, on medium heat with a little bit of oil so they don't stick.
Enjoy!
If you give this recipe a try, take a photo and tag
#crueltyfreefamily
and/or
#pleasepassthepeace
. We are so excited to see your recreations!