Succotash: a historically American dish, consisting of corn, lima beans, and usually some other vegetables, as well. Because Succotash was originally created by Native Americans (the Narragansett tribe), it is a popular Thanksgiving dish in New England. Many conscious Americans have issues with the Thanksgiving myth that the "first Thanksgiving" was a peaceful meal shared between Pilgrims and Natives, and the holiday has become commercialized and sugar coated. In fact, some choose to protest Thanksgiving altogether with a National Day of Mourning.
As a vegan, Thanksgiving can be a difficult day. Not only do many of us feel the heavy, deep sadness resulting from the slaughter of millions of turkeys, we are also saddened by the environmental impact created from the factory faming turkeys. The more we begin to become conscious of the suffering of both humans and animals as a result of  the colonialism Thanksgiving celebrates, the harder it is to celebrate Thanksgiving without wanting to make some major changes to the holiday.
I don't think we should stop being thankful. I don't think we should stop sharing meals with our families. I don't think vegan pumpkin pie and mashed potatoes are bad. But maybe, just maybe, if we take the time to be a little more conscious and less commercial on Thanksgiving, we could alleviate a little more suffering in this world.
This year, my contribution to the cruelty free Thanksgiving table is this No-Suffering Succotash recipe. Make it with some local produce, if you can (you can even modify the veggies depending on what's in season in your area. Some cubed, roasted  butternut squash would be a wonderful substitute for cherry tomatoes). Serve it with a little conscious conversation about the plight of Native Americans. Enjoy it with a meatless main dish that has less environmental impact than a factory farmed main course. However you choose to celebrate Thanksgiving, we can all do our part to make it a little more conscious, a little more sensitive, and a little less cruel. Peace truly can begin on our plate.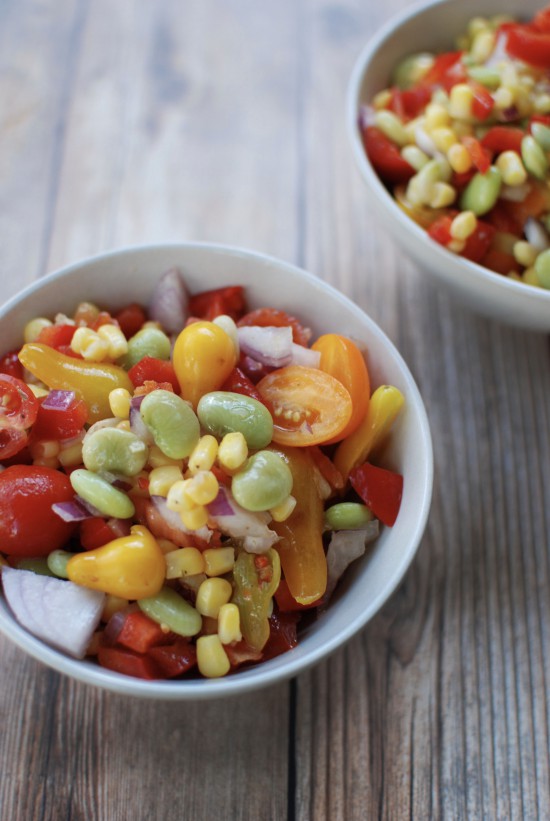 Ingredients
2 cups frozen lima beans
1 1/2 cups  frozen corn kernels (or 2 ears of fresh corn kernels)
1 cup cherry tomatoes, halved
1/2  red bell pepper, seeded, and diced
1/2 small red onion, finely diced
2 tablespoons extra virgin olive oil
2 tablespoons fresh lemon juice
1 teaspoon coconut nectar or maple syrup
1/8 teaspoon smoked paprika
1/2 teaspoon salt
1/4  teaspoon black pepper
Directions
Bring 6 cups of water to a boil in a pot on the stove. Once boiling, add the lima beans and corn kernels. Cook for 1 minute, then drain with a colander and rinse with cold water. Let the corn and beans dry in the colander while you prep the rest of your vegetables.
Mix all of the veggies together in a serving bowl. Toss in the olive oil, lemon juice, nectar,paprika,  salt, and pepper. Toss well.
Serve cold or at room temperature.
If you give this recipe a try, take a photo and tag
#crueltyfreefamily
and/or
#pleasepassthepeace
. We are so excited to see your recreations!