Pad Thai Roll-Ups With Peanut Sauce

I LOVE pad thai and I LOVE spring rolls, so…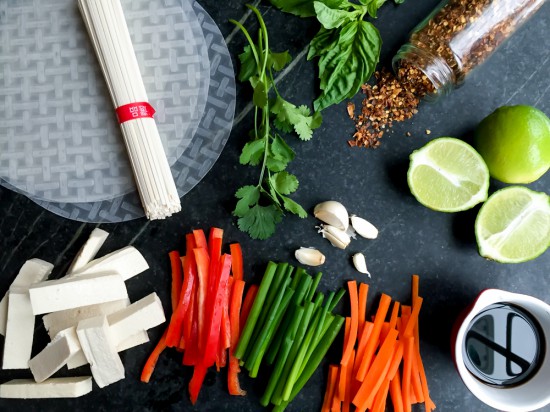 Ingredients
*Makes 8 rolls
For the marinade:
1 cup water
1/4 cup liquid aminos
1/4 cup rice wine vinegar
2 cloves garlic, minced
Pinch of red pepper flakes
1/2 block extra firm tofu, cut into 4-5 inch long strips
For the Pad Thai Sauce:
2 tablespoons liquid aminos
Juice of 1/2 lime
1 tablespoon agave nectar
1/4 teaspoon sesame oil
1 clove garlic, minced
Pinch of red pepper flakes
For the peanut sauce:
1 teaspoon lime juice
2 tablespoons smooth peanut butter
2 teaspoons liquid aminos
1/4 teaspoon sesame oil
2 1/2 tablespoons hot water
2 teaspoons agave nectar
1/8 teaspoon sriracha
1 very small clove of garlic, minced
1/2 teaspoon sesame seeds
For the Rolls:
4oz noodles (rice, udon, etc)
1 tablespoon coconut oil
Green onions, cut into 4-5 inch strips
Your fav veggies cut into 4-5 inch strips (carrots, peppers, etc)
Crushed peanuts
Fresh basil
Fresh cilantro
Rice Paper
Directions
Marinate your tofu! Whisk water, liquid aminos, vinegar, garlic, and pepper flakes and a shallow dish. I use a pie plate. Cut your tofu into strips and place them in the liquid. Let sit for at least a couple of hours. I recommend over night.
Make the pad thai sauce! In a small bowl whisk liquid aminos, lime juice, agave, sesame oil, garlic, and red pepper flakes. Set aside.
Make the Peanut Sauce! In a small bowl, whisk lime, peanut butter, liquid aminos, sesame oil, water, agave, sriracha, garlic, and sesame seeds until smooth. Set aside.
Add your noodles to a pot of boiling water. Cook as directed.
While your noodles are cooking, add the coconut oil to a hot skillet. Remove your tofu from the marinade and set in the skillet. Lightly brown the tofu on all sides.
Toss your noodles in the Pad Thai sauce
Assemble! Fill a shallow dish (I use a dinner plate) with very hot water. Place your rice paper in the water. Let sit for about 30-40 seconds, flipping half way through. On a clean tea towel, lay out your rice paper. Pile fresh herbs, veggies, noodles, crushed peanuts, and then your tofu onto the middle of the rice paper. Flip the bottom over the pile, flip the sides in, and then roll until sealed. Continue making rolls until ingredients are gone.
Serve with peanut sauce, for dipping.
Enjoy!
If you give this recipe a try, take a photo and tag
#crueltyfreefamily
and/or
#pleasepassthepeace
. We are so excited to see your recreations!