I don't know about you guys, but I find eating a bowl full of one thing, that is one colour, that has one flavour, prettttttyyyy freakin' tragic. Can we live a little here?! Add this crisp, tangy, super beautiful salad to a rich main course. You may have a lot of regrets in your life, but this will not be one of them.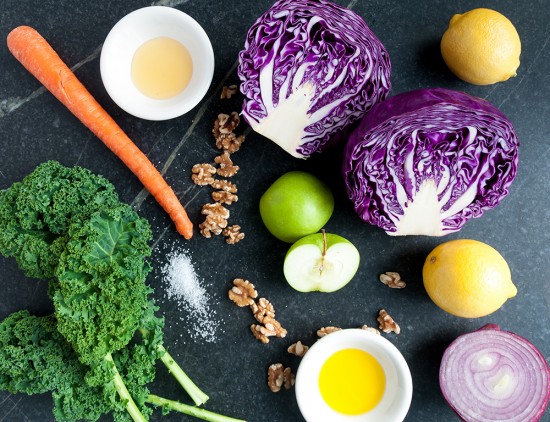 Ingredients
For the Salad:
3 cups kale, rinsed, dried, and chopped.
1 carrot, ribboned
2 cups red cabbage, shredded
1 green apple, sliced
1/4 cup red onion, sliced into thin rings
1/4 cup chopped walnuts
For the Dressing:
1/4 cup olive oil
1/4 cup freshly squeezed lemon juice
1 tablespoon nutritional yeast
2 teaspoons agave nectar
1/2 teaspoons salt
fresh cracked pepper
Directions
Add kale, carrot, cabbage, apple, and onion into a large bowl.
Whisk oil, lemon juice, nutritional yeast, agave, salt, and pepper in a small bowl.
Pour dressing over salad and toss.
Sprinkle with walnuts.
Enjoy!
If you give this recipe a try, take a photo and tag
#crueltyfreefamily
and/or
#pleasepassthepeace
. We are so excited to see your recreations!