Every plant-based person in the world needs an outstanding tofu pot pie recipe. Comfort food at its finest, and perfect for the cold winter evenings. The crust is flaky, the filling is creamy. Do you really need any more convincing? Let's get down to business.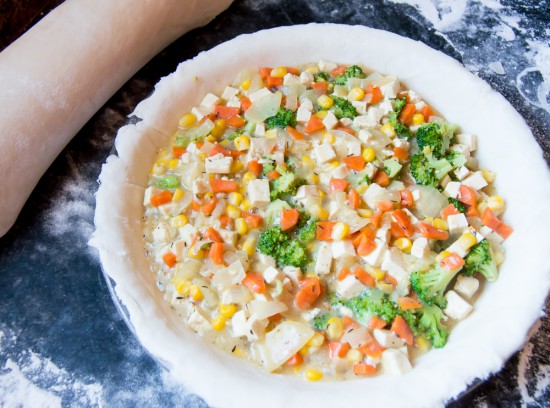 Ingredients
For the crust:
1/2 cup almond milk
1 tablespoon apple cider vinegar
2 1/2 cups flour
1 teaspoon salt
1 cup vegetable shortening
For the filling:
2 tablespoons vegan butter
1 onion, diced
1 medium carrot, cut into small cubes
1 half block of extra firm tofu, cut into small cubes
3 small cloves garlic, minced
1 cup almond milk
1/2 cup water
1 teaspoon vegetable Better Than Bouillon (low sodium)
2 tablespoons nutritional yeast
1 teaspoon salt
freshly cracked pepper
1/2 teaspoon dried thyme
1/4 cup water with 1 tablespoon corn starch (whisked together)
1 cup bite sized pieces of raw broccoli
1/2 cup frozen corn
1/2 cup frozen peas
Directions
For the crust:
In a small bowl whisk your milk and vinegar together. Set aside.
Whisk flour and salt in a large mixing bowl.
Cut the shortening into the flour/salt until you have pea sized clumps.
Add in your milk/vinegar and mix until it forms a ball. Do not knead.
Wrap the ball in plastic wrap and set in your fridge to chill while you make your pie filling.
For the pie:
Preheat the oven to 425 degrees.
Melt your butter in a large pan on medium heat.
Add in your onions, carrots, and tofu. Cook until the onions are translucent and the tofu starts to brown a little bit.
Add in your garlic. Sautee for another minute.
Add your milk, water, Better Than Bouillon, nutritional yeast, salt, pepper, and thyme. simmer for a few minutes before pouring in your water/cornstarch mixture.
When your filling starts to thicken, roll in your broccoli, corn, and peas. Cook for a few more minutes before taking off the heat.
Take your pie crust out of the fridge. Cut the ball in half. On a floured surface roll out into a circle, big enough to accommodate a 9 inch pie plate. Roll the dough around your rolling pin and unroll across your pie plate. Fit into plate. If there is excess dough around the edges, you can rip/cut them off or fold in.
Pour filling into the pie shell. Roll out the other half of your dough. Lay across the top of the pie plate and trim the edges. Press the two crusts together with a fork or crimp with your fingers. Cut a few slits into the pie to let the steam escape.
Place into the oven and bake for 30 minutes. Let cool for five to ten minutes before cutting and serving.
Enjoy!
If you give this recipe a try, take a photo and tag
#crueltyfreefamily
and/or
#pleasepassthepeace
. We are so excited to see your recreations!