I love fresh-from-the-oven biscuits with my soup or chili. These butternut biscuits are perfect for that, plus, they're a great way to sneak in some extra veggies. The butternut squash makes the biscuits so moist and flavorful that your family won't even notice that they're healthy!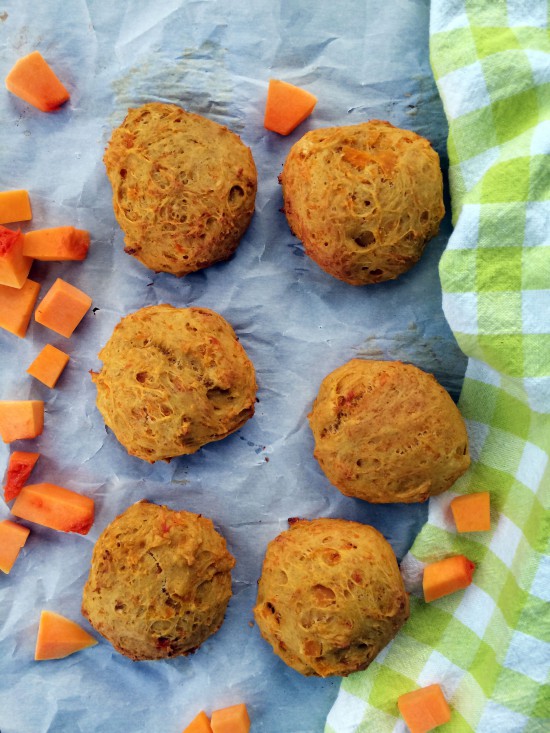 Ingredients
Makes 8-10 biscuits
1 cup mashed butternut squash
1 cup all-purpose flour (or white whole wheat flour)
2 teaspoons baking powder
½ teaspoon cinnamon
½ teaspoon salt
2½ tablespoons olive oil
1 tablespoon maple syrup or agave nectar
1 teaspoon apple cider vinegar
¼ cup almond milk
Directions
For this recipe, you can use homemade mashed butternut squash or canned butternut squash purée. I prefer the flavor with fresh, but canned will do if you're short on time. If using fresh butternut squash, carefully cut the whole squash in half, remove the seeds, and roast the halves at 350 F for an 40-60 minutes. Alternatively, you can peel and cut the squash into small cubes and roast the cubes at 400 F for 30 minutes. When the squash is tender, remove from the oven, peel, and mash the squash in a bowl. Measure one cup of mashed squash for the biscuits.
Preheat the oven to 400 F. In a mixing bowl, sift together the flour, baking powder, cinnamon, salt, and olive oil.
In a separate bowl, mix together the olive oil, maple syrup, vinegar, and almond milk. Add the mashed squash to the liquid mixture.
Add the wet ingredients to the dry ingredients, mixing just until everything is incorporated. Mixing too much will make your biscuits tough.
Gently form the dough into ¼ cup sized balls. Place the balls onto a parchment-lined baking sheet, and lightly flatten the top of each ball with your fingers. Bake for 13-15 minutes, until the biscuits are firm and just beginning to brown around the edges.
Serve with your favorite vegan chili, soup, or stew.
If you give this recipe a try, take a photo and tag
#crueltyfreefamily
and/or
#pleasepassthepeace
. We are so excited to see your recreations!