These potato puffs are like a marriage between mashed potatoes and tater tots. And there's even a veggie in there! I served them at my baby shower, and they quickly vanished from sight. They're a real crowd pleaser, and you can serve them warm or at room temperature, which is nice if you're hosting a party or bringing something to a potluck. They're also gluten free (and soy free, and nut free), which is always a plus when you're trying to make party food for a large group!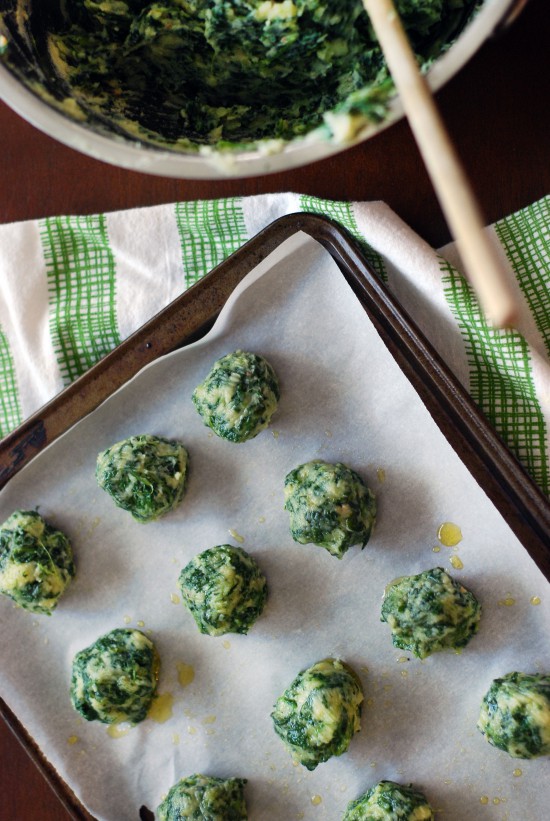 Ingredients
Makes about 20 puffs
4 medium russet potatoes (about 1 lb)
¼ cup vegan butter (or extra virgin olive oil)
1 head of roasted garlic
10 oz of chopped frozen spinach, defrosted
½ teaspoon salt, plus a few pinches
Additional olive oil, for brushing
Directions
Prep your potatoes. Peel them and cut them into quarters. Defrost your spinach. Squeeze all of the excess liquid out of the spinach.  (I wrap the spinach in a clean dishtowel and wring out all of the liquid from the spinach.)
Roast the garlic. Cut the top off a head of garlic to expose the cloves, drizzle with a little olive oil, wrap in foil, and bake at 400 F for 40 minutes. Allow the garlic to cool before handling. The garlic cloves should be very soft. Squeeze the roasted garlic cloves from their skin and set aside.
Place the potatoes in a pot and cover the potatoes with water. Add a few big pinches of salt to the water. Bring the water to a boil. Boil the potatoes for 20 minutes, or until the potatoes are soft throughout when pierced with a fork.
Drain the potatoes. In a mixing bowl, mash the potatoes with a potato masher (a large fork will also do) and mash in the butter and garlic cloves. (Make sure the garlic is well-mashed into the mixture) When there are no more lumps, mix in the spinach and salt. Chill the potato and spinach mixture in the fridge for at least 30 minutes before rolling into balls.
When the mixture is chilled, you can begin rolling it into walnut-sized balls. Place the balls on a parchment-lined baking sheet. Brush each ball with a little olive oil. At this point, you can refrigerate or freeze the balls. The potato puffs freeze well and can be stored in a freezer bag once they are completely frozen.
Bake the potato puffs for 20 minutes at 350 F. Remove from the oven, but do not remove the puffs from the pan for at least 10 minutes. They need to cool before they are firm enough to be plated. Use a spatula to transfer the puffs to a serving plate.
Enjoy! Keep leftovers refrigerated… if you have any!
If you give this recipe a try, take a photo and tag
#crueltyfreefamily
and/or
#pleasepassthepeace
. We are so excited to see your recreations!