Greek Salad with Macadamia Feta

This week, I had a major craving for greek salad. With extra extra olives. Olives are a big part of my life.
If you're thinking that greek salad couldn't possibly taste the same without goat's cheese, you are dead wrong. Macadamia cheese is where it's at.
When we think about food, we generally think about THAT food. Maybe not so much the flavours within that food. So, if you think of bacon, what do you taste? Smoke, lots of salt, a little sweetness. We can make "bacon" out of anything with liquid smoke, salt, and a little maple syrup. Well, the same goes for cheese. What do you taste when you eat feta? Brininess and a little sharpness. Salt and lemon juice! See? It's easy being vegan!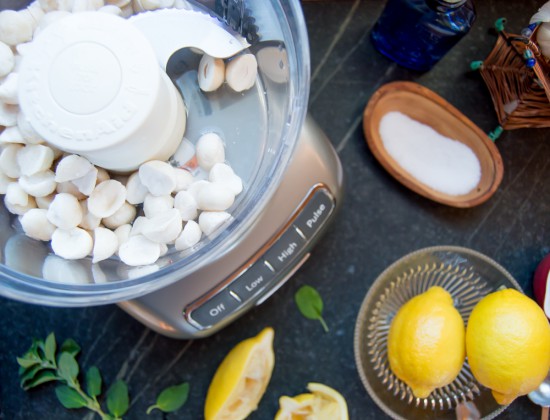 Ingredients
For the feta:
1 1/4 cups raw macadamia nuts, soaked over night
1/4 cup + 2 tablespoons water
1 tablespoon green olive juice
2 tablespoons freshly squeezed lemon juice
1 teaspoon salt
cheese cloth
1 tablespoon of fresh, chopped oregano (or 1 teaspoon dried)
For the dressing:
1/4 cup freshly squeezed lemon juice
1/2 cup water
1/2 cup olive oil
4 tablespoons nutritional yeast
2 tablespoons vegan mayo
4 cloves garlic, finely minced
1 tablespoon fresh, chopped oregano (or 1 teaspoon dried)
a couple pinches of sea salt
fresh cracked pepper
For the salad:
5 cups fresh greens
1 tomato, chopped
1/4 of a red onion, finely sliced
1/2 cup pitted kalamata olives
1 cup of sliced cucumber
Directions
For the feta:
Add ingredients into your food processor. Blend until smooth. This usually takes me about 5 minutes.
Put the mixture into a piece of cheese cloth. Bring all sides of the cheesecloth together and tie it with a string or rubber band. Set in a strainer and set the strainer into another bowl. Let drain for at least 8 hours. You want to get as much liquid out as possible so your feta is nice and crumbly.
Unwrap your cheese and place into a medium bowl. Add in your oregano and mix with a fork until evenly distributed. Set aside.
For the dressing:
Add all ingredients into a mason jar with a lid. Shake until everything is combined. Set aside.
For the salad:
Rinse your greens and pat them dry with a clean tea towel or paper towel. Put in a large bowl.
Add tomato, onion, olives, and cucumber, then lightly toss.
Crumble desired amount of feta cheese over the salad and serve with dressing.
Enjoy!
If you give this recipe a try, take a photo and tag
#crueltyfreefamily
and/or
#pleasepassthepeace
. We are so excited to see your recreations!