Brussels Sprout Mac and Cheese

When asked the question "What would you eat if you could only eat one dish for the rest of your life?" I couldn't come up with a good answer. You see, I love mac and cheese with a deep, intense passion, but I also love roasted brussel sprouts equally as much. So, sneakily, I combined them together into one dish. One glorious dish that I would happily eat, every day, for the rest of my life.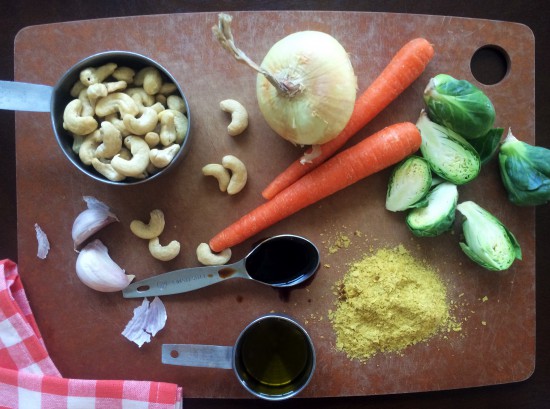 Ingredients
1 lb of Brussels sprouts
1 tablespoon olive oil
½ teaspoon salt
2 cups vegetable broth
1 onion, chopped
1 cup carrot, chopped
2 cloves of garlic, chopped
1 cup raw cashews
½ cup nutritional yeast
1 tablespoon soy sauce
2 tablespoons olive oil
1 tablespoon lemon juice
½ teaspoon Dijon mustard
1/8 teaspoon cayenne pepper
8 oz elbow macaroni
Directions
Preheat the oven to 400 F. Wash and dry the Brussels spouts, trim off any brown ends, and cut them in half. Toss with the olive oil and salt, making sure they are well coated. Place the sprouts in a single layer on a large baking sheet, making sure they are not overcrowded. Bake for 15-20 minutes, tossing them halfway through to ensure even browning. The sprouts should be tender and caramelized in some spots. Set aside.
While the Brussels sprouts are roasting, bring the vegetable broth to a boil in a pot. Once boiling, add the onion, carrot, garlic and cashews. Boil for 15 minutes, then remove from the heat and allow to cool. Once cooled, transfer the broth mixture to a blender or food processor. Add the nutritional yeast, soy sauce, olive oil, lemon juice, mustard, and cayenne.. Blend until the cashews are completely smooth. This could take anywhere from 1-5 minutes. Once the sauce is smooth, transfer it back into the pot, and warm over low heat.
Add water and salt to a large pot for the pasta. Bring to a boil, and cook the pasta according to the package's instructions. Drain the pasta, and add the pasta and Brussels sprouts to a serving bowl. Then pour the cashew cheese sauce over the pasta and serve.
If you give this recipe a try, take a photo and tag
#crueltyfreefamily
and/or
#pleasepassthepeace
. We are so excited to see your recreations!