Hawaiian BBQ Lettuce Boats

Lately I've been needing a break from the classic winter food. I'm all about the casseroles and soups, but sometimes I need something a little more fresh to break it up. Can we just pretend it's summertime, for a sec?
We are on the beach. It's warm and breezy. And we are eating these lettuce boats, picnic-style, watchin' the waves.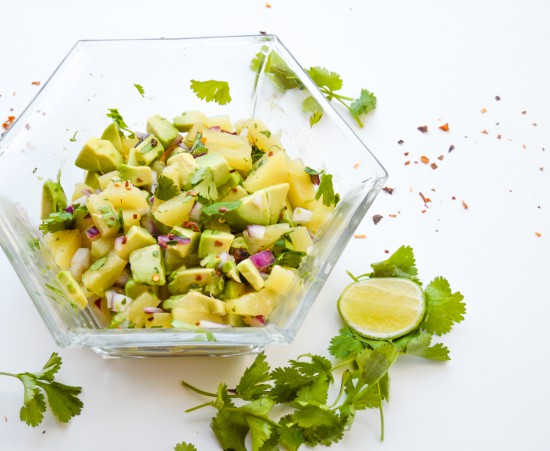 Ingredients
For the BBQ Sauce:
1/4 cup ketchup
1 teaspoon apple cider vinegar
1 tablespoon + 1 teaspoon agave
1 teaspoon liquid aminos
2 teaspoons olive oil
1 teaspoon mustard
1 teaspoon smoked paprika
1/2 teaspoon onion powder
1 clove garlic, minced
For the Pineapple Avocado Salsa:
1 ripe avocado, cubed into bite sized pieces
1 cup chopped pineapple
1/4 cup finely chopped red onion
1/4 cup fresh cilantro, chopped
juice of 1/2 lime
pinch of red pepper flakes
pinch of salt
For the Boats:
1 tablespoon olive or coconut oil
1 15oz can chickpeas, rinsed
6-8 romain lettuce leaves, rinsed and dried
vegan sour cream or tahini for drizzling
Directions
In a medium bowl, whisk together ketchup, vinegar, agave, liquid aminos, olive oil, mustard, smoked paprika, onion powder, and garlic. Set aside.
In a medium bowl, add avocado, pineapple, red onion, cilantro, lime juice, red pepper flakes, and salt. Lightly fold together. Be careful not to mash up your avocado. Set aside.
In a cast iron skillet, on medium heat, heat your oil. Add in your chickpeas. Stir occasionally, lightly browning. When they are a little crispy and golden brown, add in your BBQ sauce. Stir and let thicken. This usually takes three to five minutes. Take off the heat.
Lay out your lettuce leaves on a platter. Fill each with a couple spoonfuls of chickpeas then a spoonful of your salsa. Drizzle with vegan sour cream or tahini (if too thick for drizzling, cut with a little water).
Enjoy!
If you give this recipe a try, take a photo and tag
#crueltyfreefamily
and/or
#pleasepassthepeace
. We are so excited to see your recreations!