Say hello to rich, silky, luscious, chocolate heaven.
This recipe was born because my husband HATES all pie (yes, I know, crazy!) except for chocolate pie. For holidays we also do the classic pumpkin and apple. Well, this year the pumpkin, which is my mother's favourite, was an epic fail. Never put flax in a pumpkin pie. I'm telling you right now. So it went, she tried the chocolate.
The great thing about my mother is, if something isn't great (for example, the pumpkin) she will tell you. If something is just OK, she will tell you. BUT if she tells you something is the BEST she's ever had (for example, the chocolate) you write that recipe down! And you share it with the world.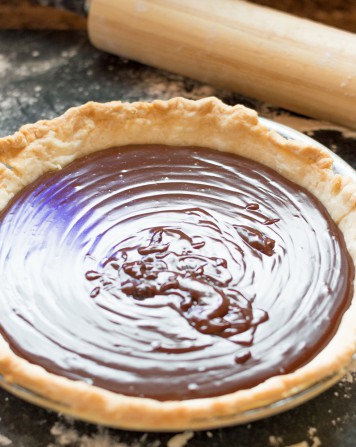 Ingredients
For the crust:
1/4 cup almond milk
1 1/2 teaspoons apple cider vinegar
1 1/4 cup flour
1/2 teaspoon salt
1/2 cup vegetable shortening
For the filling:
1 can coconut milk
1/2 cup almond milk
1 cup sugar
1/2 teaspoon salt
2 tablespoons cocoa powder
3 tablespoons corn starch
3 tablespoons vegan butter
1 100g bar of semi sweet chocolate + more for shaving
1 teaspoon vanilla extract
For the coconut whip:
1 can full fat coconut milk (chilled overnight)
2 tablespoons powdered sugar
1/4 teaspoon vanilla extract
Directions
For the crust:
In a very small bowl, whisk the almond milk and apple cider vinegar. Set aside
In a medium bowl, whisk flour and salt. Cut in shortening until you have pea sized clumps.
Add in your milk/vinegar mixture and lightly mix until it forms a ball. Do not knead.
Wrap the ball in plastic wrap and set in your fridge. Chill for at least two hours.
Preheat the oven to 375 degrees.
Roll out pastry into a circle to fit a nine inch pie plate. Fit into your pie plate, prick the bottom of the pastry with a fork. Trim off excess dough and crimp edges using a fork or your fingers.
Line pastry with parchment paper; fill with pie weights or died beans. This is to keep the crust from shrinking while it bakes. Bake for about 20 minutes or until you see the edges get that nice golden brown colour.
For the filling:
Pour coconut milk, almond milk, sugar, salt, cocoa powder, and corn starch into a heavy-bottomed medium sauce pan, over medium heat. Whisk continuously until the mixture begins to thicken and then bubble. Continue to whisk and let bubble for about two minutes. Take off heat. Whisk in butter, chocolate, and vanilla extract. When smooth pour into your pie shell.
Place a piece of plastic wrap over the pie, touching the filling. This is to keep a "skin" (gross!) from developing over the top of your filling.
Place in the fridge. Chill for AT LEAST a few hours. For best results, chill over night.
For the coconut whipped cream:
Take can of coconut milk out of the fridge and immediately open. Scoop out the thick coconut cream from the top, leaving the coconut water, which should have separated to the bottom of the can.
Whisk together, with an electric beater,  your coconut cream, powdered sugar, and vanilla extract, until light and fluffy. Spread evenly over the top of your pie.
Garnish with LOTS of shaved chocolate!
Enjoy!
If you give this recipe a try, take a photo and tag
#crueltyfreefamily
and/or
#pleasepassthepeace
. We are so excited to see your recreations!