This red lentil Bolognese is inspired by traditional Bolognese sauce, an Italian American favorite, usually made with ground beef, pork, veal, or a combination of the three. Protein rich red lentils replace the meat in this dish. They are hearty, cook quickly, and soak up all of the rich flavors of the sauce.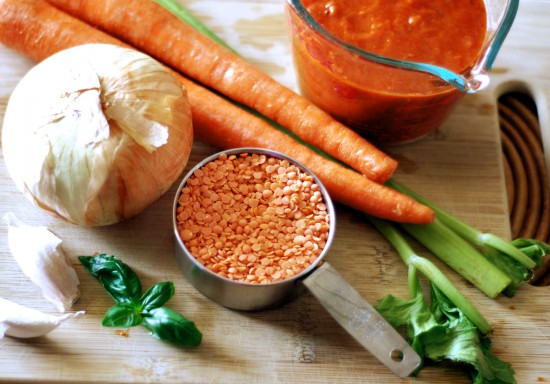 Ingredients
Serves 4
1 tablespoon olive oil
1 large sweet onion, finely chopped
2 carrots, peeled, finely chopped
1 celery stick, ends trimmed finely chopped
3 cloves of garlic, minced
28 oz can crushed tomatoes
½ cup vegetable broth
½ cup dry red wine
½ teaspoon red pepper flakes (or more, to taste)
½ teaspoon ground fennel seed
1 teaspoon dried oregano
4 tablespoons fresh basil, chopped
¾ cup dried red lentils
salt and pepper, to taste
extra broth or wine
1/2 pound of cooked pasta, for serving
whole basil leaves for garnish
1-2 raw brazil nuts
Directions
In a large sauce pan, gently heat olive oil over low-medium heat. Add the onion, and sauté until soft, and just beginning to brown, about 5 minutes. Add the carrots, celery, and garlic, and continue to sauté, stirring occasionally, for 3-5 more minutes.
Increase the heat, add the crushed tomatoes, vegetable broth, wine, herbs, and spices. Then, stir in the lentils. Heat the mixture until bubbling, and then reduce the heat to a simmer. Cover the pot and let cook for 20-30 minutes, until the lentils are tender.
Keep sauce warm while preparing pasta. If needed, add ¼ to ½ cup of vegetable broth or wine to thin the sauce a bit. Add salt and pepper.
Serve over pasta. In place of Parmesan cheese, with a micro plane grater, grate a raw brazil nut over the dish, being careful not to grate your fingers. Garnish with basil leaves
If you give this recipe a try, take a photo and tag
#crueltyfreefamily
and/or
#pleasepassthepeace
. We are so excited to see your recreations!