I've never been a huge breakfast person, I normally opt for a cup of tea and maybe a scrap or two of my toddler's leftovers, while cleaning up the dishes. Mom liiiifffeee! When I'm pregnant, though, I really need to step up my breakfast game. Healthy/protein packed meals to keep morning sickness at bay and energy levels high are absolutely essential.
These burritos are quick, easy, and freezable!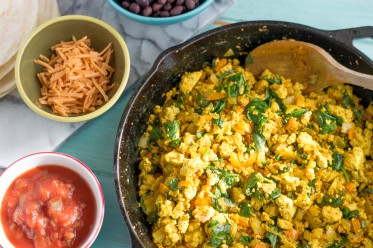 Ingredients
This recipe makes 6 small burritos.
For the Tofu Scramble
1 tablespoon coconut oil
1/2 bell pepper, diced
1/2 block extra firm tofu, pressed and crumbled
1 cup fresh baby spinach, chopped
1 tablespoon yellow mustard
1 tablespoon nutritional yeast
1/2 teaspoon black salt
1/2 teaspoon cumin
1/2 teaspoon paprika
1/2 teaspoon chili powder
1/2 teaspoon garlic powder
1/2 teaspoon onion powder
1/2 teaspoon turmeric
small pinch of cayenne
2 tablespoons water
Note: You can sub out black salt for regular. The black salt has a sulfur and therefor an "eggy" taste to it, making your scramble seem more realistic.
For the Burrito
1 package of small tortillas
1/2 cup corn
1/2 cup black beans, rinsed
Delicious Additions:
Guacamole
Salsa
Vegan cheese
Vegan sour cream
Directions
Heat coconut oil in a skillet (preferably cast iron) on medium heat. Add your bell pepper and crumbled tofu.
Meanwhile in a small bowl whisk mustard, nutritional yeast, spices, and water. Pour into the skillet. Coat tofu and peppers evenly.
Quickly chop up spinach and add into the skillet. Take off the heat when tofu is lightly browned and spinach has started to wilt.
Assemble your burritos by adding a couple scoops of your scramble, beans, and corn to your tortillas and wrapping them up.
Enjoy!
If you give this recipe a try, take a photo and tag
#crueltyfreefamily
and/or
#pleasepassthepeace
. We are so excited to see your recreations!