Usually, when I think of a vegan cheese recipe, I expect that the recipe is going to have nuts or tofu in it to make the cheese creamy. Well, this recipe gets it's creaminess from something different: pureed veggies! You can use pureed pumpkin or mashed sweet potato as the creamy base for this queso. Your family will love this recipe, and you'll love that they're eating their vegetables!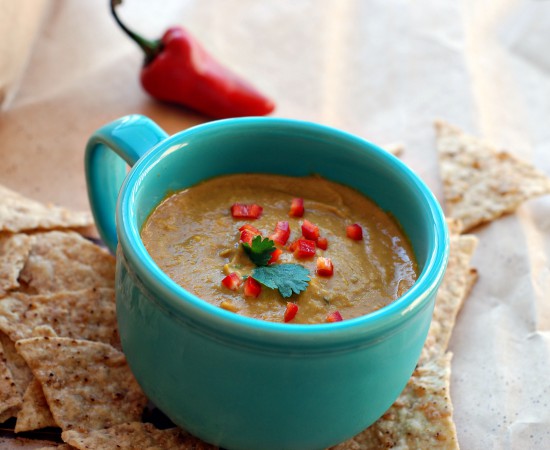 Ingredients
1 tablespoon olive oil
Small onion, diced very finely
2 cloves of garlic, minced
1 tablespoon flour
1 cup pureed pumpkin or 1 cup of mashed sweet potato
1 cup warm almond milk (or other nondairy milk)
1/4 cup nutritional yeast
1 teaspoon cumin
1/2 teaspoon smoked paprika
1/8 teaspoon cayenne pepper
salt and to taste
1 finely diced red chili pepper (optional)
cilantro (optional)
Directions
In a small pot over medium heat, sauté the onion in olive oil until soft , for about 5 minutes. Add the garlic and sauté an additional 30 seconds.
Whisk in the flour, and cook for 2 more minutes. If desired, add a splash more olive oil to moisten the flour.
Whisk in the rest of the ingredients. Cook until thick, 5-7 min. Add salt to taste. (Optional: For a smoother texture, blend the queso in your blender, just make sure to let it cool a bit first.)  Garnish with fresh red chili pepper and cilantro, if desired.
Serve warm with plenty of tortilla chips!
If you give this recipe a try, take a photo and tag
#crueltyfreefamily
and/or
#pleasepassthepeace
. We are so excited to see your recreations!