Butter Cauliflower & Roasted Garlic Naan

This is my favourite, most favourite dinner. And that's all I have to say about that. *Forest Gump voice*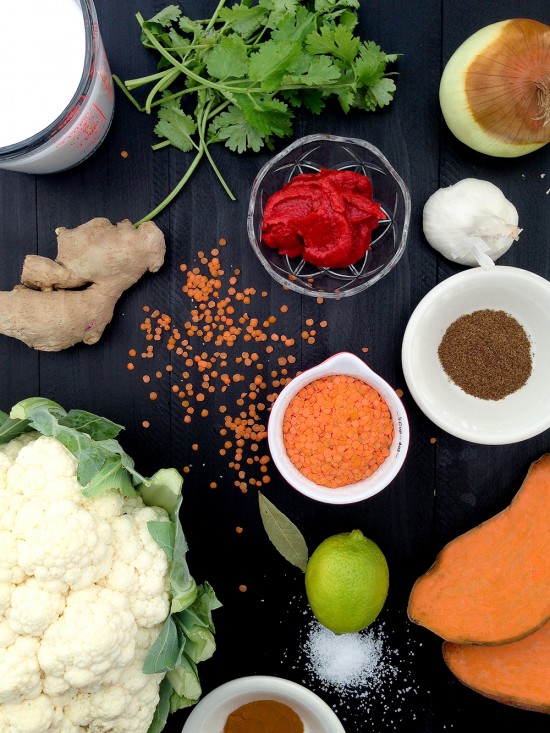 Ingredients
For the Naan:
1 head of garlic
1 packet (2 1/4 teaspoons) active dry yeast
1 tablespoon sugar
2 teaspoons salt
1 1/2 cups warm water
1/2 teaspoon cumin
3 1/4 cups of flour, plus more for working the dough
3 tablespoons vegan sour cream or unsweetened yogurt
1/4 cup vegan butter, melted
For the Butter Cauliflower:
2 tablespoons coconut oil
1 onion, diced
4 cloves garlic, minced
4 tablespoons tomato paste
1 can coconut milk
4 cups vegetable broth
1 tablespoon agave (or any other liquid sweetener)
Juice of 1 lime (or if you're limeless 1/4 cup rice wine vinegar)
1 small head of cauliflower, cut into bite sized pieces
1 sweet potato, cubed into bite sized pieces
1/2 cup red lentils
1 bay leaf
1 tablespoon garam masala
2 teaspoons turmeric
2 teaspoons curry powder
1/2 teaspoon sriracha
2 teaspoons grated fresh ginger
1 1/2 teaspoons salt (or to taste)
freshly cracked black pepper
1/4 cup of fresh cilantro, chopped, plus more for garnish
Directions
For the Naan:
Preheat the oven to 350 degrees. Cut the very top of the head of garlic so all of the cloves are exposed. Place on a square of tin foil. Drizzle a little olive oil on top, sprinkle a little salt, crack a little pepper. Wrap the garlic and place in the oven directly on the rack. Take out after 40 minutes. There will be VERY hot steam inside the tin foil, so let it cool for a few minutes before you unwrap it.
In a small bowl add sugar and salt to warm water. Sprinkle in your yeast and let bloom for 5-10 minutes, until fragrant and frothy.
In a large bowl whisk your flour and cumin together.
When yeast is ready add in the sour cream or yogurt. Whisk this mixture together. Add the wet mixture to the flour and mix until it's a shaggy dough.
Turn out onto a floured surface and knead until the dough is smooth and isn't sticky. Roll it into a ball, coat lightly in olive oil, and let sit in a warm spot for 25-30 minutes.
Roll out onto floured surface, semi-flattened out. Squeeze the roasted garlic into a small bowl and mash with a spoon until it is like a paste. Spread the garlic across the dough. Kneed a few times until you feel that the garlic is distributed evenly.
Separate into 8 equal balls of dough. Roll out each, make sure they are not too thin.You don't want them to be transparent.
Heat cast iron skillet on medium heat and have your butter melted, and ready.
When hot, place one naan in the skillet. Quickly brush with butter. When bubbles start to form (30 seconds-1 minute) flip and brush the other side with butter. When cooked, transfer to plate.
Continue process until all of your naan is cooked.
For the Butter Cauliflower:
In a large pot, sautee onion and garlic in the oil.
Add tomato paste, coconut milk, veggie broth, sweetener, and lime.
Add the cauliflower, sweet potatoes, and red lentils.
Bring to a simmer.
Add the bay leaf, garam masala, tumeric, curry powder, sriracha, ginger, salt, and pepper.
Simmer until sweet potatoes and cauliflower are cooked until tender ( but not mushy).
Add your cilantro just before serving.
Serve over basmati rice and sprinkle with your extra cilantro.
Enjoy!
If you give this recipe a try, take a photo and tag
#crueltyfreefamily
and/or
#pleasepassthepeace
. We are so excited to see your recreations!