Carrot Zucchini Squares with Cashew Maple Frosting

This is a recipe I used to make in my vegetarian days with extra processed sugar, cream cheese, and eggs. I have since improved the recipe by removing animal products, and as a result, it is much healthier. I'm not the type of Momma to pick up junk from the grocery store for my kids, but I'm also not the type of Momma to refuse them treats. These squares make it easy to say yes with their abundance of nutritional value!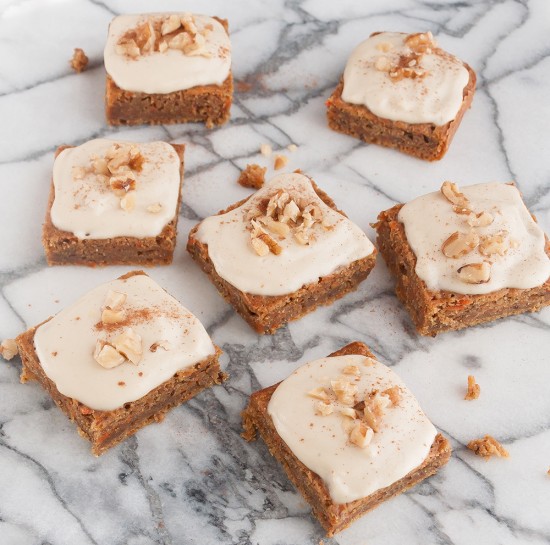 Ingredients
For the Squares:
1 cup carrot, grated
1 cup zucchini, grated
1 flax egg (1 tablespoon ground flax 3 tablespoons water)
1 chia egg ( 1 tablespoon chia seeds 3 tablespoons water)
1/2 cup none dairy milk (I use cashew)
1 cup coconut sugar
1/4 cup agave nectar
1/2 cup coconut oil, melted
1 tsp vanilla
1 1/2 cups flour (I use quinoa flour or whole wheat, both have turned out great.)
2 teaspoons baking powder
1 tsp salt
1/2 tsp nutmeg
1/4 teaspoon ground clove
1 heaping teaspoon cinnamon
1/2 cup walnuts, chopped
For the Frosting:
3/4 cup raw cashews, soaked over night and rinsed
1/4 cup coconut oil
1/4 cup maple syrup
1 teaspoon vanilla
1 tablespoon + 1 teaspoon freshly squeezed lemon juice
2-3 tablespoons cashew milk (any none-dairy milk will do.)
A pinch of sea salt
Directions
For the Squares:
Preheat oven to 350 degrees.
Grease a 9 x 13 pan.
Grate your carrot and zucchini.
In a small bowl, make your chia and flax eggs and set aside.
In a medium bowl, add your coconut sugar, agave, melted coconut oil, vanilla, flax, chia, and milk.
In a large mixing bowl, whisk your flour, baking powder, salt, nutmeg, ground cloves, and cinnamon.
Add wet to dry and mix.
Fold in walnuts.
Pour mixture into your greased pan and bake for 25-30 minutes (until a toothpick comes out clean).
For the Frosting:
Add everything to your food processor or blender and blend, and blend, and blend until COMPLETELY smooth.
Transfer to a bowl and chill in the fridge while your squares cool to room temperature. The frosting will thicken up a bit as it chills.
Frost evenly with desired amount and cut into squares.
Top each square with a pinch of cinnamon and some chopped walnuts.
Enjoy!
If you give this recipe a try, take a photo and tag
#crueltyfreefamily
and/or
#pleasepassthepeace
. We are so excited to see your recreations!