Black Bean and Roasted Veggie Tostadas

Mexican food is the greatest! Tacos, fajitas, burritos, give me it all. But if I was stranded on an deserted island and I could only take one delicious Mexican dish with me, I would totally take tostadas because I'm addicted to that CRUNCH! This recipe is no fuss, packed full of flavour, and can be modified to use up anything you have in your fridge. I love this for a quick week night meal.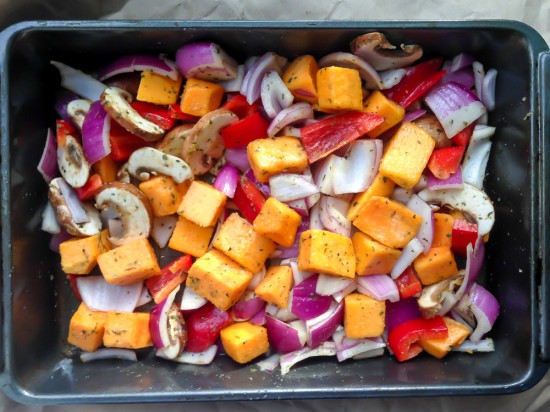 Ingredients
1 red onion, roughly chopped
1 red pepper, roughly chopped
3 cups of seasonal vegetables, cut into bite size pieces. (squash, potatoes, zucchini, carrots, cauliflower, anything goes!)
2 tablespoons olive oil
1 teaspoon cumin
1/2 teaspoon chilli powder
1/2 teaspoon dried cilantro
1/2 teaspoon dried oregano
1 teaspoon garlic powder
1/2 teaspoon sea salt
fresh cracked pepper
1 can black beans, drained and rinsed
1 cup of your favourite salsa
6 pre made tostada shells or tortilla shells
Directions
Preheat the oven to 425 degrees.
Add vegetables, olive oil, and spices into a baking dish. Toss until veggies are evenly coated.
Roast for 25-30 minutes. Take them out half way through the cooking time to stir.
While the veggies finish cooking add the beans and salsa to a small pot. Bring to a simmer and cook the liquid out a bit (if needed).
If you didn't buy your tostada shells pre made (I never do), brush your tortilla shells with a little bit of olive oil and spread them out on a baking sheet. When you take your veggies out, stick them in for a minute or two. You have to watch them pretty closely so they don't burn. Take them out when they have bubbled up a bit and have become crispy. You can also fry these, but it's a week night! With kids! Ain't nobody got time for that oily mess.
Add a spoon full of your beans and a spoon full of veggies on each tostada shell. Top with cruelty free sour cream, cheese, avocado, roasted corn, cilantro, the list goes on!
Enjoy!
If you give this recipe a try, take a photo and tag
#crueltyfreefamily
and/or
#pleasepassthepeace
. We are so excited to see your recreations!