Cream of Kale Soup with Gnocchi

Creamy soup loaded with kale, garlic, and gnocchi. Your family will think this
soup is loaded with cream, but the cream in this soup is made from blended
cashews. Diced, boiled potato chunks can stand in for gnocchi in this dish and
provide a similar starchy heartiness.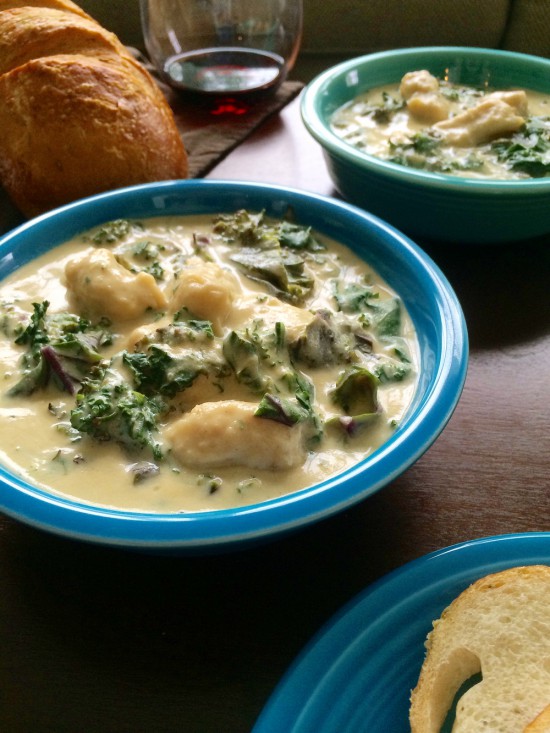 Ingredients
Serves 4
1 tablespoon olive oil
1 onion, chopped
4 cloves of garlic, chopped
1 teaspoon dried oregano
¾ cup raw cashews
4 cups vegetable broth
2 tablespoons of cornstarch or arrowroot powder
4 cups of kale, chopped
8 oz gnocchi, defrosted if frozen
Additional water or vegetable broth
salt and pepper to taste
Directions
Heat a three quart pot over medium heat. Add the olive oil. When the pan is hot, add the onions, and cook until slightly brown and caramelized, about 7-8 minutes. Add the garlic, and cook for an additional minute. When the garlic is fragrant, add the oregano, stirring for about 30 seconds, until the oregano is fragrant. Then, add the cashews and vegetable broth. Cover and bring the broth to a boil, and let simmer for 15 minutes. Let cool.
Transfer the cooled cashew and broth mixture to a blender. Blend until completely smooth. This could take anywhere from 1-5 minutes. The broth should now resemble a cream.
Pour the cream back into the pot, reserving about ¼ cup or so of the cream in a small bowl. Add the cornstarch to the reserved cream and whisk the mixture into
a slurry, making sure there are no clumps. Add the cornstarch slurry back into the pot with the cream.
Heat the pot over medium heat, allowing the soup to bubble and thicken. Add the kale to the pot, stirring with a wooden spoon. The kale should wilt and soften.
Next, add the gnocchi, cooking them in the bubbling soup for 4 minutes, or until the gnocchi are completely soft. Reduce the heat. If the soup seems too thick, thin with additional water or vegetable broth. Add salt and pepper to taste. Serve with crusty bread.
If you give this recipe a try, take a photo and tag
#crueltyfreefamily
and/or
#pleasepassthepeace
. We are so excited to see your recreations!