Smokey Cheddar Cauli 'n' Cheez

Move over macaroni! There's a new vessel to get creamy, cheesy goodness into your mouth. Today we are lightening up everyone's guilty pleasure by making it low carb!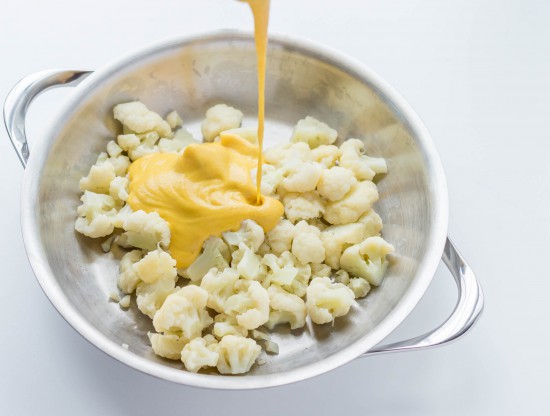 Ingredients
1/2 cup raw cashews, soaked over night (or for at least a few hours)
1 russet potato, cubed into bite-sized pieces
1 medium carrot, sliced into bite-sized pieces
1 small onion, quartered
2 cups low sodium vegetable broth
1 tablespoon coconut oil
1/2 teaspoon yellow mustard
1 1/2 teaspoons lemon juice
2 tablespoons unsweetened almond milk
2 tablespoons nutritional yeast
1/2 teaspoon turmeric
1/2 teaspoon garlic powder
pinch of cayenne pepper
pinch of smoked paprika+more for garnish
salt to taste
1 large head of cauliflower
Directions
Add the potato, carrot, and onion to a medium pot. Pour in vegetable broth. Bring to a boil and let simmer until the vegetables are easily poke-able with a fork.
While the vegetables are simmering, cut the cauliflower into bite sized florets. Rinse well and steam for 20-25 minutes. Make sure they don't get mushy!
Pour potato, carrots, onions, and vegetable broth into your blender.  Add cashews, coconut oil, nutritional yeast, mustard, lemon juice,  almond milk, and spices. Blend until completely smooth and creamy.
Pour cheez sauce over the cauliflower and toss until coated. Sprinkle some extra smoked paprika and serve immediently.
Enjoy!
If you give this recipe a try, take a photo and tag
#crueltyfreefamily
and/or
#pleasepassthepeace
. We are so excited to see your recreations!