Fresh corn is one of my favorite foods. It brings me back to those summer days as a little girl, where we'd sit in our backyard and shuck corn. This creamy corn chowder replaces the dairy based cream in traditional corn chowder with coconut milk. I like to use full fat coconut milk in this recipe to make it extra creamy, but feel free to use light coconut milk for a lower fat version!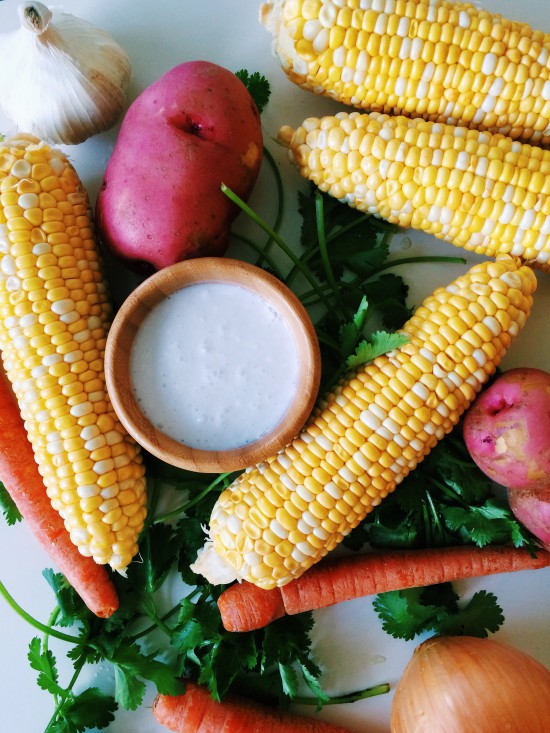 Ingredients
1 tablespoon coconut oil
2 cloves garlic, minced
1 Onion, diced
3 carrots, peeled and diced
2-3 medium sized red potatoes, cut into 1 inch chunks
2 teaspoons curry powder
4 cups of vegetable broth
4 ears of corn, shucked and kernels removed from the cob
1 cup coconut milk
½ cup cilantro, chopped
Salt and pepper, to taste.
Directions
In a large stock pot, heat the coconut oil over medium heat. Sauté the garlic and onions for a few minutes, until soft and fragrant.
Add the curry powder, carrots, and potato and vegetable broth. Bring to a boil. Once boiling, reduce heat to a simmer. Cook for 10-15 minutes, until the potatoes are soft.
Turn off the heat and with a fork, mash some of the soften potato chunks against the side of the pot. (You can also use an immersion blender for this.) This will thicken the soup.
Add the corn and return the soup to a simmer. Let simmer for 5 minutes.
Reduce the heat to low, and stir in the coconut milk and cilantro. Add salt and pepper to taste.
Serve warm, with a drizzle of coconut milk on top!
If you give this recipe a try, take a photo and tag
#crueltyfreefamily
and/or
#pleasepassthepeace
. We are so excited to see your recreations!