I have never been to Ikea, but my house is filled with Ikea EVERYTHING; from beds, to cabinets, to rugs. Out of the goodness of their hearts, my parents drive to the one in Massachusetts, do all of the leg work, and haul all of my stuff up to New Brunswick, Canada. Awesome, right?!
Along with the in-store experience, I've never had the meatballs everyone raves about it. AND THEY HAVE VEGAN ONES NOW! I can't say my Swedish meatballs are a copycat, but they are totally Ikea inspired.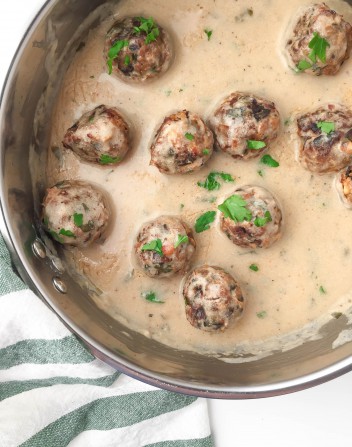 Ingredients
For the meatballs
1 tablespoon olive or coconut oil
2 cups diced mushrooms
1 small onion, diced
3 cloves garlic, minced
1 1/2 cup chickpeas, mashed
1 cup whole wheat Panko bread crumbs
1/4 cup nutritional yeast
1/4 cup fresh parsley, chopped
1/4 cup unsweetened apple sauce
1/2 teaspoon sriracha
2 tablespoons liquid aminos
1/2 teaspoon onion powder
1/2 teaspoon garlic powder
1/4 teaspoon paprika
pinch of nutmeg
pinch of allspice
pinch of salt + freshly cracked pepper to taste
For the sauce:
1/2 cup cashews, soaked overnight
1 cup water
1 teaspoon apple cider vinegar
1 tablespoon liquid aminos
1 teaspoon dijon mustard
5 tablespoons vegan butter
3 tablespoons flour
2 cups low sodium vegetable broth
salt and pepper to taste
fresh parsley for garnish
Directions
For the meatballs:
Heat oil on medium heat. Add mushrooms and cook down for a few minutes before adding onion and garlic. Take off heat when onions are translucent. Set aside until cooled a bit.
In a medium bowl add all ingredients (including mushroom mixture). Mix until all ingredients are incorporated. If needed, mix with clean hands.
Preheat the oven to 400 degrees.
Roll into balls a little smaller than a golf ball. If they seem crumbly, make sure you are pressing/rolling them firmly. I find a dryer mixture results in better textured meatballs.
Place on a baking sheet lined with parchment paper. Bake for 20-30 minutes, turning over half way through the time. Take them out when they have a lightly browned outer crust.
For the sauce:
Add cashews, water, vinegar, liquid aminos, and mustard to a blender. Blend on high until completely smooth.
Heat butter in a large skillet. Add flour. Whisk constantly for a few minutes.
Pour in cashew mixture along with the vegetable broth. Bring to a simmer. The sauce will begin to thicken. Add salt and pepper.
Add meatballs and sprinkle with the fresh parsley.
Serve over mashed potatoes, noodles, or rice.
Enjoy!
If you give this recipe a try, take a photo and tag
#crueltyfreefamily
and/or
#pleasepassthepeace
. We are so excited to see your recreations!