This recipe is for you, cilantro lovers. I'm in your camp. I can never get enough cilantro… I just love its freshness. Even just smelling cilantro makes me happy! Cilantro haters, I'm sorry. This recipe will probably make you cringe. I get it, you hate cilantro. Even the teensiest bit of cilantro in your burrito will ruin your day. And when that happens, I will gladly finish that cilantro burrito for you! I'm just that kind of friend.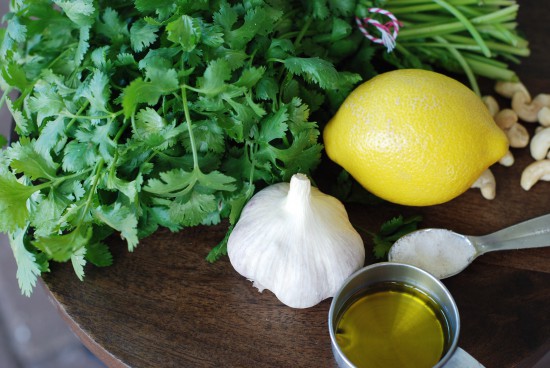 Ingredients
1 bunch (about 3 cups) of cilantro
1/4 cup extra virgin olive oil
2 cloves garlic
1/2 cup fresh lemon juice (2-3 lemons)
1 cup raw cashews
3/4 teaspoon salt
3 tablespoons water
Directions
Soak the cashews in enough water to cover them, for several hours or overnight. If short on time, boil the cashews for 5-10 minutes. Drain the cashews. (You can skip this step if using a high speed blender.)
Wash the cilantro thoroughly, cut off any tough bottom stems, and roughly chop.
In a food processor or blender, blend together all of the ingredients for several minutes until completely smooth and creamy.
Use the pesto sauce on top of pasta, spread onto bread, pizza, or even as a salad dressing!
If you give this recipe a try, take a photo and tag
#crueltyfreefamily
and/or
#pleasepassthepeace
. We are so excited to see your recreations!