I'm always trying to sneak veggies into my breakfasts, so why not try to sneak some fruit into my dinners? I love tropical fruit in savory dishes. Mango or pineapple really add a little something special to your fried rice or stir fry, plus they add some vitamin C to your supper. Chickpea flour mixed with water magically cooks like an egg when added to your skillet, making this fried rice taste authentic and adding a little extra protein. Leftover rice works best for this recipe, but if you are working with freshly made rice, make sure that the rice has cooled before you fry it, for the best texture.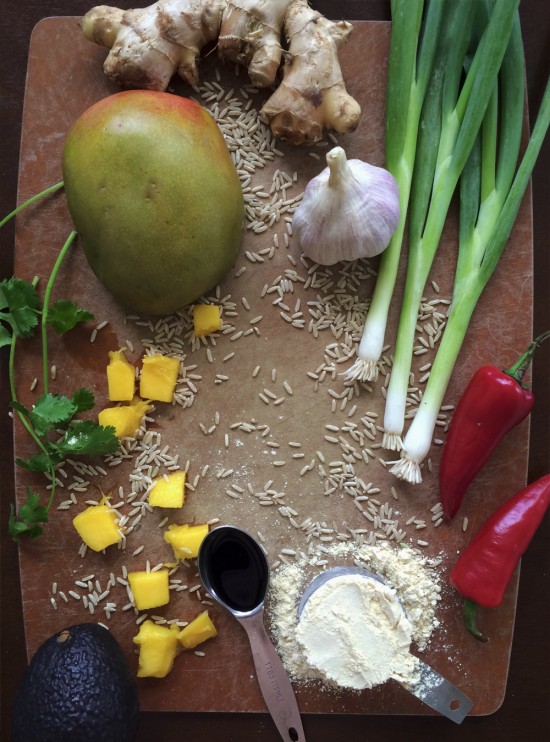 Ingredients
Serves 4-6
1/3 cup chickpea flour
½ cup water
1 tablespoon coconut oil
2 cloves garlic, minced
1 tablespoon fresh ginger, grated
2 mangoes or ½ pineapple, peeled and cut into bite size chunks
2 red jalapeno chili peppers, seeded and diced
6 cups of brown jasmine or basmati rice, cooked and cooled
1/4 cup of soy sauce or tamari, plus more to taste
1 avocado, pitted and peeled
cilantro, for garnish
Directions
In a small bowl, mix together the chickpea flour and water. Set aside.
Heat the coconut oil in a large heavy skillet (preferably cast iron) over medium heat. Add the garlic and ginger, and cook for one minute, or until fragrant. Then, add the mango and chili pepper, and continue to cook for an additional minute.
Next add the rice, and stir thoroughly, using a spatula or wooden spoon. Make a well in the center of the rice, and add the chickpea flour batter to the well. Stir to coat the rice with the batter. Some of the batter will form clumps, similar to the way egg pieces form in egg-based fried rice. Once the batter has cooked, add the soy sauce, and stir to make sure everything is well incorporated. Serve warm, with avocado and cilantro on top.
If you give this recipe a try, take a photo and tag
#crueltyfreefamily
and/or
#pleasepassthepeace
. We are so excited to see your recreations!