Bean salads are a great way to get a little more protein in your life. I love black bean and mango, white beans with parsley and lemon, and of course, this recipe: edamame with cucumber and a soy sesame dressing.  This recipe takes less than ten minutes to come together, so it's great for a busy weeknight meal.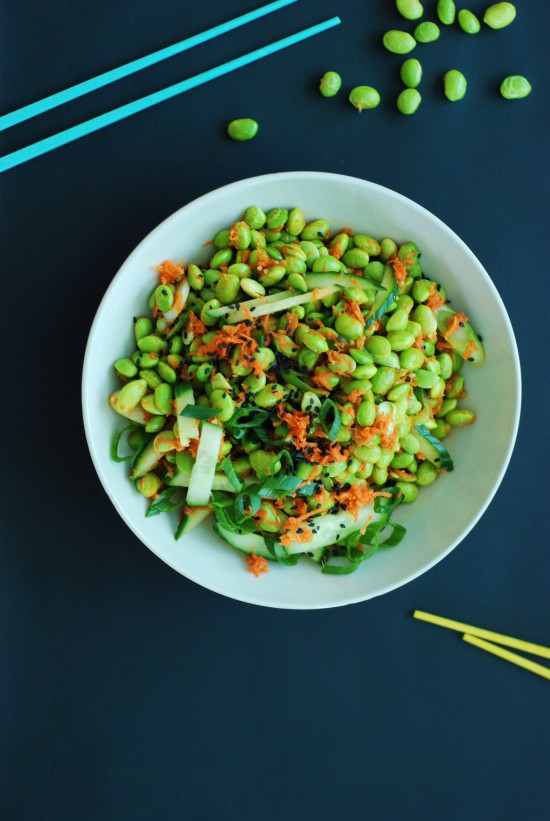 Ingredients
3 cups frozen, shelled edamame
1/2 cup rice wine vinegar
1/4 cup low sodium soy sauce
1 tablespoon toasted sesame oil
1 tablespoon agave nectar
1 clove garlic, minced
2 carrots
2 scallions
1/2 cucumber
1 tablespoon sesame seeds
Directions
Defrost frozen edamame (I do this by rinsing if with hot water in a colander.) Put edamame into a service dish.
Mix together vinegar, soy sauce, oil, agave nectar, and garlic. Pour over edamame.
Peel and grate the carrot. Chop the scallion. Slice the cucumber, and cut slices into thin strips. Add the veggies to the bowl.
Sprinkle with sesame seeds and serve as-is, over lettuce, or over rice noodles.
If you give this recipe a try, take a photo and tag
#crueltyfreefamily
and/or
#pleasepassthepeace
. We are so excited to see your recreations!