Sweet BBQ Tofu & Grilled Pineapple Burgers

It's no secret that I LOVE the BBQ sauce and pineapple combo. In fact I've posted a recipe featuring similar ingredients before. But it's grillin' season! It's BBQ season! Let's do a burger!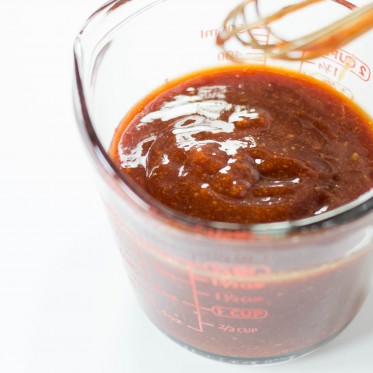 Ingredients
For the marinade:
1 block extra firm tofu, pressed
3 cups water
3 teaspoons Vegetable Better Than Bouillon
2 cloves garlic minced
1 tablespoons apple cider vinegar
Pinch of red pepper flakes
For the BBQ sauce:
1 cup ketchup
1 cup brown sugar
1 tablespoon old fashioned dijon mustard
1 tablespoon molasses
1 tablespoon liquid aminos
2 tablespoons apple cider vinegar
1 teaspoon garlic powder
1 teaspoon smoked paprika
1 teaspoon onion powder
Pinch of cayenne pepper
For the burger:
8 burger buns
Vegan butter
8 slices fresh pineapple
Lettuce
Red onion slices
Vegan mayo
Directions
For the marinade:
Slice tofu down the middle. Flip those halves onto side and slice each of them into fours. You will have eight thin squares of tofu.
In a shallow dish, whisk together the water, bouillon, garlic, vinegar, and red pepper flakes.
Place tofu in the marinade. Allow to marinate for several hours. Over night if possible.
For the BBQ sauce:
In a medium bowl, whisk together all ingredients. Set aside.
To assemble the burger:
In a skillet, on medium heat, place tofu and about 3/4 of BBQ sauce. Allow the tofu slices to simmer in BBQ sauce until the sauce becomes thick, and the edges of the tofu slices begin to brown. This step is optional. I find that when tofu is simmered in liquid it ensures that your tofu is flavour packed and doesn't taste…like tofu.
Pre heat grill or grill pan. Cut buns in half, butter, and place on grill until grill marks are visible and the edges of buns are golden brown. Take off heat and set aside.
Transfer tofu slices from skillet to grill. Brush both sides with remaining BBQ sauce.
Add pineapple slices to grill. Take tofu and pineapple off heat when grill marks are visible, and the pineapple begins to soften.
Add a thin layer of mayo to each side of the bun. Lay down the bottom half of bun. Place lettuce, a slice of tofu, a slice of pineapple, a couple slices of red onion, and then the top half of your bun.
Serve immediately.
Enjoy!
If you give this recipe a try, take a photo and tag
#crueltyfreefamily
and/or
#pleasepassthepeace
. We are so excited to see your recreations!