Zoodles are amazing! They require very minimal work, between prepping and the cooking. They are great way to lighten up a typically carb-heavy meal. Also, and most importantly, they taste great!
While this version of pad thai is in no way traditional, it's flavour packed and a perfect way to use up garden veggies to make a beautiful and super fresh summer meal!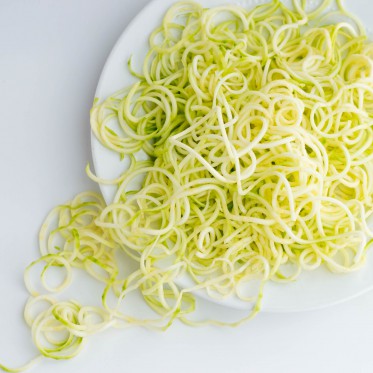 Ingredients
For the sauce:
Juice of one lime
2 tablespoons + 1 teaspoon liquid aminos
1 tablespoon + 1 teaspoon agave
1/2 teaspoon sriracha
1 tablespoon water
For the pad thai:
2 tablespoons coconut oil
3 stalks green onion, chopped (including white parts)
3 cloves garlic, minced
1/2 teaspoon fresh ginger, minced
1 large carrot, julienned
1/2 red pepper, thinly sliced
3 medium zucchini, spiralled
1 cup bean sprouts, rinsed
1 tablespoon fresh cilantro, chopped
1/4 cup crushed peanuts
Lime wedges, extra green onions, and cilantro for garnish
Directions
For the sauce:
In a small bowl, add all ingredients and whisk together. Set aside.
For the pad thai:
In a wok or large pan, heat oil. Add green onions, garlic, and ginger. Sauté until fragrant.
Add carrots and pepper. Sauté for about five minutes, until vegetables are al dente.
Quickly add in zoodles, bean sprouts, and cilantro. Toss and pour sauce in. Keep tossing for 2-3 minutes. Do not overcook zucchini or it will get mushy and release A LOT of liquid. Some liquid is expected, since you are cooking zucchini, instead of traditional noodles that soak up liquid.
Sprinkle crushed peanuts. Top with lime wedges, green onions, and cilantro.
Enjoy!
If you give this recipe a try, take a photo and tag
#crueltyfreefamily
and/or
#pleasepassthepeace
. We are so excited to see your recreations!