Cauliflower Chickpea Tacos

Let's talk about meaty veggies! What's a "meaty" veggie? A vegetable that when seasoned and cooked properly, can stand in for meat in a recipe. Cauliflower, eggplant, zucchini, jackfruit, mushrooms, beets, and potatoes also can make great stand-ins for meat. But cauliflower always wins my heart. In this recipe, It gets seasoned, seared, and stuffed into tacos!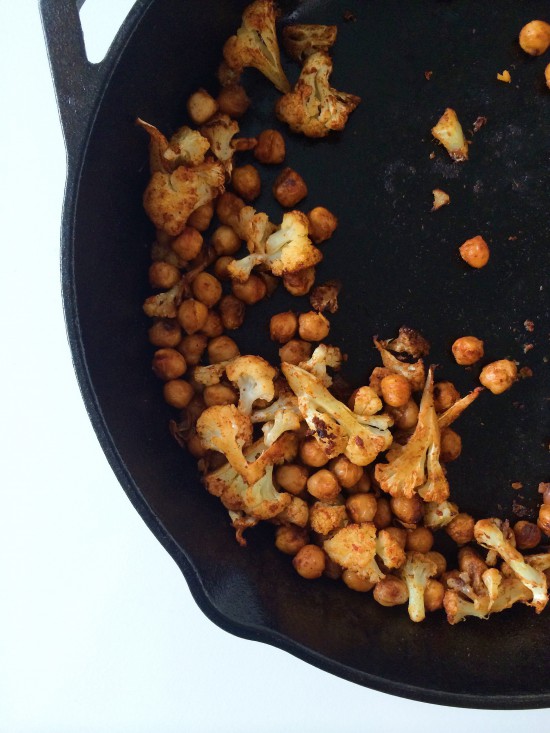 Ingredients
1 tablespoon coconut oil
1/2 head cauliflower, broken into florets
15 oz chickpeas, drained, rinsed, and patted dry
1 teaspoon cumin
1/2 teaspoon smoked paprika
1/4 teaspoon salt
1/8 teaspoon cayenne pepper
1 tablespoon fresh lime juice
6-8 small corn or flour tortillas
1 recipe for pico de gallo
1/4 cup fresh cilantro, roughly chopped
Optional taco toppings: avocado, vegan sour cream, etc.
Directions
Heat the coconut oil in a cast iron skillet set to medium-high heat. Once hot, add the cauliflower. Sauté for 5-7 minutes, letting some of the edges get brown and crispy.
Add the chickpeas, salt, and spices. Sauté for 5-7 more minutes, stirring occasionally, letting the chickpeas brown. Turn off the heat. Add the lime juice and toss to coat.
Warm the tortillas (either by wrapping in foil and baking at 375 F for 10 minutes) or by placing each tortilla in a hot skillet (cast iron is proffered) for 30-45 seconds, until warm.
Take a warm tortilla and fill it with cauliflower and chickpeas. Top with pico de gallo, cilantro, a squeeze of lime juice, and any other toppings you may want!
If you give this recipe a try, take a photo and tag
#crueltyfreefamily
and/or
#pleasepassthepeace
. We are so excited to see your recreations!