I love coleslaw, but sometimes I don't want to be eating gobs of vegan mayo. I'm all for vegan mayo, but I also love recipes that are 100% real food. And this recipe fits the bill, without sacrificing taste. It's the perfect side dish to serve with our Espresso Balsamic Beet Burgers!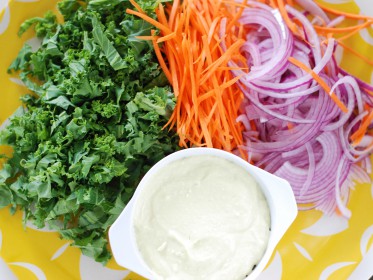 Ingredients
3/4 cup raw cashews (soaked for 2-4 hours and drained)
1 avocado, peeled and pitted
1/4 cup lemon juice
1/4 cup water
3 dates, pitted (soak them for an hour if they are dry, then drain)
1/4 teaspoon sea salt
5 cups kale, stems removed and chopped into small pieces
2 carrots, peeled and cut into matchsticks
1/2 small red onion, peeled and very thinly sliced
Directions
In a blender, combine the cashews, avocado, lemon juice, water, dates, and salt. Blend thoroughly until very smooth.
In a large salad bowl, toss together the kale, carrots, and onions with the cashew dressing. Mix well to make sure everything is well coated.
Let sit for at least 15 minutes before serving to develop the flavors. Will keep covered in the refrigerator for 24 hours.
If you give this recipe a try, take a photo and tag
#crueltyfreefamily
and/or
#pleasepassthepeace
. We are so excited to see your recreations!