Red lentils are amazing. They cook up really quickly, they're high in protein, and they're easy to sneak into soups, stews, even pasta sauce. One of my favortie  things to do with red lentils is make our Red Lentil Bolognese.  But i've gotta admit, I'm really keen on these lentil squares. For this recipe, I cooked up some lentils, tossed in some veggies, and baked them into an almost cornbread-like creation. Easy, peasy! Best of all, if you have kids, these lentil are a great way to sneak in some legumes and veggies!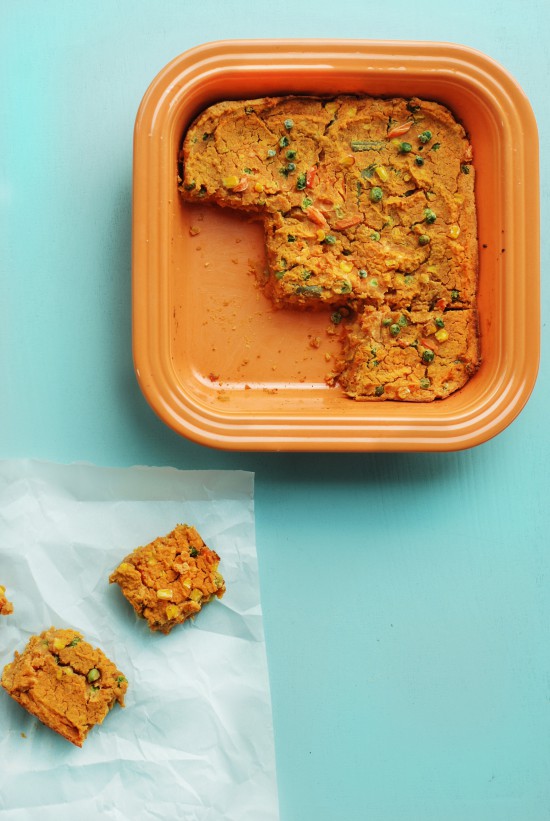 Ingredients
4 cups vegetable broth (we used salt free broth to make these toddler friendly)
2 cups dry red lentils
1 cup carrots, cut into large chunks
3 tablespoons tomato paste
2 cups cooked mixed vegetables (I used frozen peas, corn, carrots, and green beans, but any small chunks of vegetable would do)
1/2 teaspoon garlic powder
1/2 teaspoon oregano
1 teaspoon ground cumin
2 teaspoons nutritonal yeast
salt, to taste
coconut oil, for greasing
Directions
Preheat the oven to 350 F. Grease an 8 x 8 baking dish with coconut oil and set aside.
In a saucepot, bring the lentils and broth to a boil. Reduce the heat to medium low, and let cook for 15 minutes until the lentils are completely cooked.  (Red lentils do not hold their shape like brown lentils, which is ideal for this recipe. You are looking for the lentils to dissolve into a chunky puree.)
While the lentils are cooking, steam the carrots over boiling water for 10 minutes. They will be completely soft. Transfer them to a food processor and puree them, or, transfer them to a bowl and mash them until there are no chunks left.
In a mixing bowl, combine the lentils, carrots, and the rest of the ingredients.
 Pour the lentil mixture into the baking dish.
Cover with a lid or foil and bake for 40 minutes. Uncover and bake for an additional 15-20 minutes.
Remove from the oven, and insert a toothpick in the center of the lentil squares when it comes out clean, the lentil squares are ready.
Let sit for at least 15 minutes before serving. To serve, cut into squares.
If you give this recipe a try, take a photo and tag
#crueltyfreefamily
and/or
#pleasepassthepeace
. We are so excited to see your recreations!