These quesadillas are fun and easy for a weeknight meal. They may be cheese-free, but they're super creamy and flavorful. For a even more creaminess, dip them in our Creamy Cilantro Pesto sauce!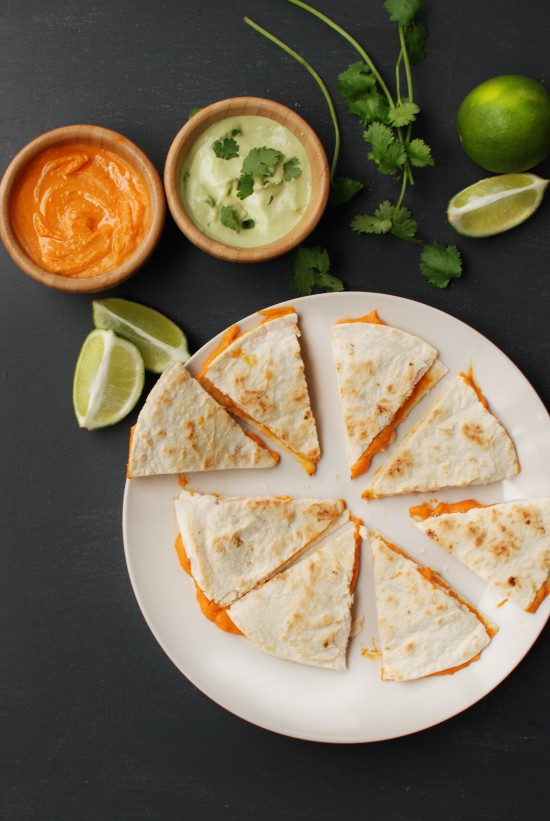 Ingredients
1 large sweet potato
2 tablespoons lime juice
1 teaspoon cumin
1 teaspoon coconut sugar
1 teaspoon coconut oil
1 pinch salt
4, 8-inch tortillas
additional coconut oil for cooking
1 recipe for Creamy Cilantro Pesto
Directions
Preheat the oven to 400 F, pierce the sweet potato with a fork several times, and bake for 45-60 minutes until completely soft. Let cool. (You can use leftover sweet potato for this recipe!)
Cut open the sweet potato and put the flesh in a bowl. Add the lime juice, cumin, coconut sugar, coconut oil, and salt. Mash very throughly. For extra smoothness, you can mix this in a food processor for 10-30 seconds until completely smooth.
Heat a nonstick or cast iron pan, brushed with coconut oil, over medium heat.
Spread 1/2 cup of the sweet potato mixture over a tortilla, and place another one on top. Fry in the pan for 3-5 minutes on each side, until golden brown. Repeat with the other 2 tortillas.
Cut the quesadillas into triangles with a knife or pizza cutter.
Serve warm, with cilantro pesto or guacamole!
If you give this recipe a try, take a photo and tag
#crueltyfreefamily
and/or
#pleasepassthepeace
. We are so excited to see your recreations!