Southwestern Skillet Pizza

New Favourite Brunch alert!
While my mom was visiting, she was whipping up these potatoes in the cast iron skillet. She grated them and threw bunches in. A little salt and pepper, bam! Golden brown deliciousness. These little grated potato pancake type things stayed together so well, I thought, hey! this could be a crust! And I could top it with even more deliciousness!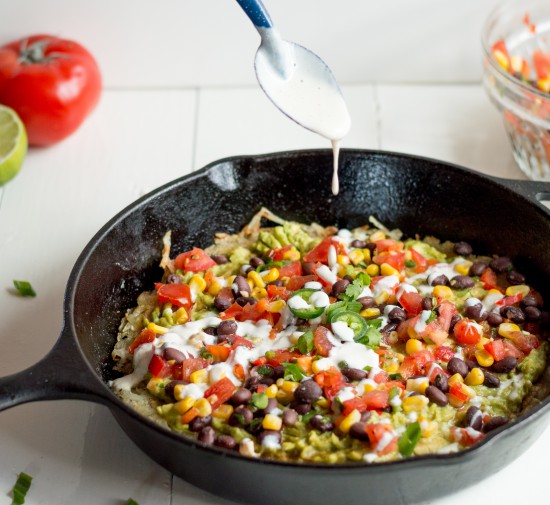 Ingredients
Black bean salad:
1 tomato, diced
1/2 cup black beans
1/2 cup corn
1/4 cup bell pepper, finely diced
1 teaspoon jalapeño, seeded and finely minced
1 tablespoon green onions
1 tablespoon cilantro
1 teaspoon garlic powder
1 teaspoon lime juice
salt and pepper to taste
Crust:
3 tablespoons olive or coconut oil
4 large russet potatoes, grated
salt and pepper to taste
Additional Toppings:
Avocado
nutritional yeast
lime juice
Fresh cilantro and chopped green onions
Directions
For the salad:
Add all ingredients to a medium bowl and stir to incorporate. Set aside.
For the crust:
Heat oil in a cast iron skillet on medium heat. When oil is hot, spread grated potatoes in an even layer. Completely cover the bottom of the skillet. Press down with a spatula so the potatoes are tightly packed.
Flip when golden brown and crispy. It takes about 5-6 minutes on each side.
Remove from pan. To remove extra oil, place on a paper towel briefly before placing on a plate.
To assemble:
Top with mashed avocado, the black bean salad, sour cream, lime juice, and fresh herbs.
Cut into pizza slices.
Enjoy!
If you give this recipe a try, take a photo and tag
#crueltyfreefamily
and/or
#pleasepassthepeace
. We are so excited to see your recreations!