It's fall… Pumpkin season! You know what you should make? This easy pumpkin flatbread. If you can make pancakes, you can make this flatbread! Inspired by Socca, a type of  Southeastern French crepe, this recipe uses chickpea flour and doesn't require kneading or rising. It has a touch of maple and fall spices, but the chickpeas and earthy pumpkin keep this flatbread strongly on the savory side.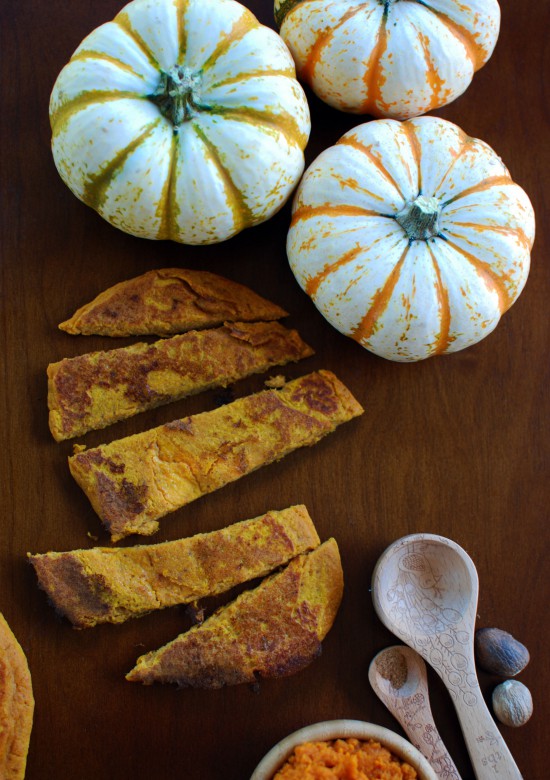 Ingredients
2 cups chickpea flour
1.5 cups pumpkin puree
2 cups water
2 tablespoons light olive oil (or another neutral flavored oil)
1 tablespoon maple syrup
1/8 teaspoon clove
1/4 teaspoon nutmeg
1/4 teaspoon salt
additional oil for cooking
Directions
In a mixing bowl, mix together the chickpea flour, water, and pumpkin puree to form a batter. It should be slightly thicker than pancake batter. Add additional water ,1 tablespoon at a time, if the batter is too thick.
Stir in the rest of the ingredients, minus the oil for cooking.
Heat a nonstick or cast iron frying pan over medium heat. When the pan is hot, add 1-2 tablespoons of oil to the pan.
Ladle 1/3 cup of the batter into the pan, forming a circle or oval shape, depending on your prefernce.
Let the flatbread cook for 3-5 minutes on one side. Flip, and cook for another 2-3 minutes on the other side.
Repeat the process until all of the batter has been cooked, adding more oil as necessary.
Cut the flatbread into wedges or strips. Serve warm. We think it pairs perfectly with a creamy soup, like our Creamy Cauliflower and Roasted Garlic Soup!
If you give this recipe a try, take a photo and tag
#crueltyfreefamily
and/or
#pleasepassthepeace
. We are so excited to see your recreations!