For many years, I thought maybe pumpkin pie wasn't in the cards for me because I had given up eggs. After a failed attempt at using flax meal to thicken the filling last year (NEVER USE FLAX MEAL IN PUMPKIN PIE!) I was feeling pretty discouraged. This year for Canadian Thanksgiving  I was tasked with making the desserts. What's Thanksgiving without a pumpkin pie, right? So hesitantly, I used cornstarch in the pie filling much like my chocolate silk pie and hoped for the best. It works! The outcome was delicious and after tweaking a little bit, I think this recipe is pretty near perfect.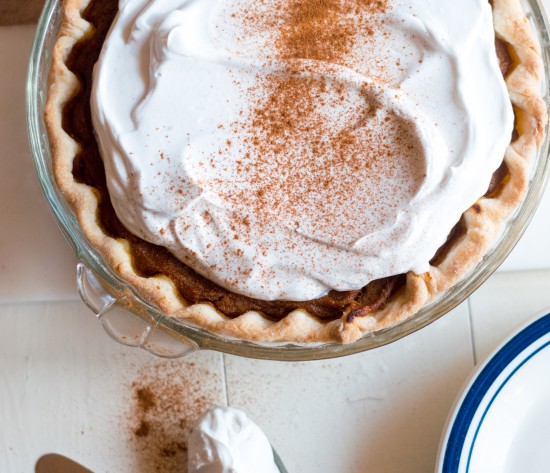 Ingredients
For the crust:
1/4 cup almond milk
1 1/4 teaspoon apple cider vinegar
1/2 cup + 2 tablespoons flour
1 tablespoon sugar
1/4 teaspoon salt
1/4 cup vegetable shortening
For the filling:
796 ml can pumpkin purée
1/4 cup sugar
1/4 cup brown sugar, packed
1 teaspoon vanilla
1 tablespoon melted coconut oil
2 1/2 tablespoons cornstarch
1/4 teaspoon ground clove
1 teaspoon cinnamon
1/4 teaspoon ginger
1/4 teaspoon nutmeg
pinch of salt
Cream Topping:
2 cans full fat coconut milk, chilled overnight
1/4 cup powdered sugar
1/2 teaspoon vanilla
Directions
In a small bowl, add milk and apple cider vinegar. Set Aside.
In a medium bowl, whisk together flour, sugar, and salt. Add shortening. Use a pastry cutter or fork to cut in the shortening. Continue until shortening pieces are pea-sized. Pour in milk and kneed lightly until just starting to combine. You don't want to overwork the dough. You want to still see bits of shortening within the dough. Form into a ball, wrap in plastic wrap, and place in fridge for at least a few hours to chill.
To make the filling, whisk all ingredients together in a medium bowl. Set aside.
Preheat oven to 350 degrees
Roll out crust on a floured surface. Transfer to 8.5 inch pie plate. Push dough gently into the plate, making sure there aren't any air pockets. Trim extra dough around edges, pinch or design as desired.
Pour filling into the pie plate. Smooth with spatula or spoon.
Place in oven and bake for 55-60 minutes.
To make the cream, chill a large bowl in the freezer for ten minutes. Take out and scoop the fat of the coconut milk into the bowl, leaving behind the liquid. Add powdered sugar and vanilla to the bowl and whisk with an electric beater until the cream has become fluffy and is completely smooth.
Chill pie completely before putting cream on top! Sprinkle with cinnamon.
Enjoy! Keep in refrigerator for up to three days.
If you give this recipe a try, take a photo and tag
#crueltyfreefamily
and/or
#pleasepassthepeace
. We are so excited to see your recreations!