Mason jars have been slowly taking over all of the real estate in my cabinets for a few years now. They're great, because you can use them for liquid measuring cups, drinking glasses, and bulk food storage! They also make great containers for salads. It turns out, a layered salad in a jar is actually quite practical, and holds up well in the fridge for several days. It's a great meal to make ahead of time. And, if you're going to be eating the same meal over and over again, you might as well choose to eat one of nature's most perfect foods: the burrito. And heck, let's make it a raw burrito! And that's how raw burrito jars were born!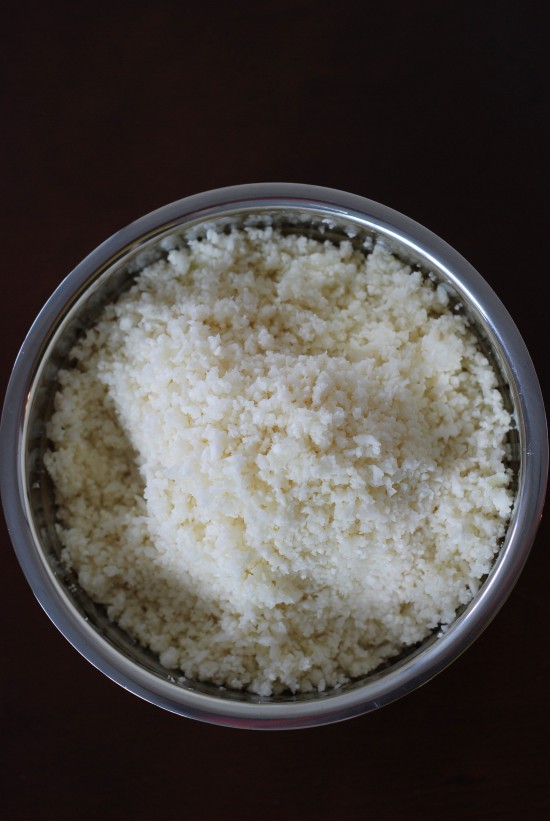 Ingredients
1/2 head of caulflower
1/2  head red cabbage
1/2  pineapple, peeled and cored
1 recipe for pico de gallo
1 head romaine lettuce
For the cheesy tahini sauce:
1/2  cup raw tahini
1/4 cup lime juice
3 carrots, peeled and cut into large chunks
2 tablespoons nutritional yeast
1/2 teaspoon cumin
1/8 teaspoon cayenne pepper
1 teaspoon turmeric
1/2 clove garlic
Optional, for serving:
Avocado slices (or guacamole)
Lime wedges
Fresh cilantro leaves
Directions
To make the cauliflower rice, cut the cauliflower into florets. Pulse the florets in the food processor until the florets are chopped into rice-sized bits. (See picture) If you do not have a food processor, you can chop the florets into tiny pieces by hand.
Use a large chef's knife to shred the cabbage into fine shreds.
Cut the pineapple into 1/2 inch cubes.
Tear or chop the romaine lettuce leaves into bite sized pieces.
To make the tahni sauce, blend all of the ingredients in a blender until smooth. Add a 1/4 cup of water if needed to thin the sauce.
Using 4 32-oz mason jars, begin layering the burrito jars. Place 1/4 of the tahini sauce at the bottom of each jar. Then, spoon 1/4 of the cauliflower rice on top. Layer the red cabbage next. Then, layer in the pineapple. Spoon the pico de gallo on top of the pineapple (use a slotted spoon to spoon the pico de gallo, so that you can drain the juice and it isn't too wet). Last, add the romaine lettuce. Place the lids on the jars. Be careful to keep them upright until serving.
To serve, empty the jar into a bowl. Top with fresh avocado, lime juice,  or any other toppings, if desired.
If you give this recipe a try, take a photo and tag
#crueltyfreefamily
and/or
#pleasepassthepeace
. We are so excited to see your recreations!